Best Places for Sailing in the US
It's no secret that sailing is an adventurous activity, whether you're a novice or a pro. Nothing compares to the sensation of skimming across the sea while the wind whips around you. Of course, sailing with the proper weather conditions and a seaworthy vessel is a must especially for offshore cruising. Sailing possibilities abound throughout the United States. For example, private and public charters to sailing with your boat on the water whenever you choose. So, in this article, we will take a look at the best places for sailing in the US. Keep reading!
Here Are Some of the Best Places to Go Sailing in the US
Mt. Desert Island, ME
Mt. Desert Island is home to the Arcadia National Park. The park offers miles of hiking and bike paths through the mountains, marshes, and lakes. You will see amazing breathtaking mountain views, but also seals, seagulls, and other wildlife even if you never leave the boat.
The entire island is connected by a free bus system that runs from Bar Harbor in the north to Bass Harbor in the south. Moreover, there are magnificent spots in between. Bar Harbor offers commercial moorings and a few anchoring areas, the island's major town, and well worth a visit. Two of the most popular bays for anchoring are Southwest Harbor and Northeast Harbor. Both have restaurants, groceries, public transportation, and well-known lobster restaurants. You can rent bikes at Northeast Harbor and have easy access to the park's large network of carriage roads and trails. The vistas from the twenty-six mountain summits are unrivaled and well worth hiking.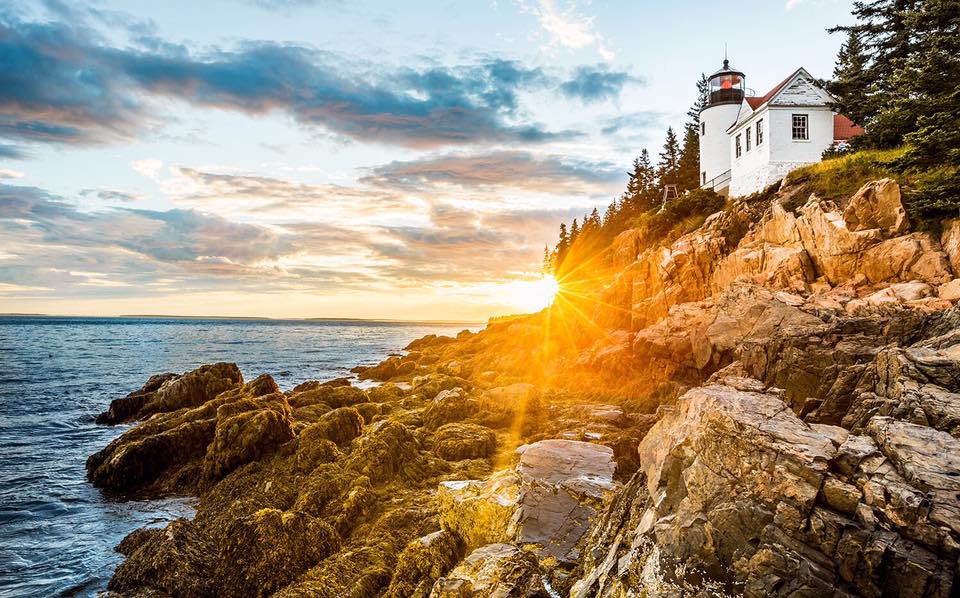 Newport, Rhode Island
Newport, known as the world's sailing capital, is one of the most popular sailing destinations in the United States. When it comes to sailing, Newport provides something for everyone with its diverse offerings. It is home to not just Sail Newport, New England's largest public sailing center, but also the country's largest fleet of America's Cup 12-meter yachts.
Visitors to Newport will see hundreds of gorgeous sailboats floating along the harbor every summer as the weather warms. Newport is located on the southern tip of Aquidneck Island, with access to the ocean via Narragansett Bay. It is the ideal windy area for sailors. Locals provide a variety of sailing excursions. From cruises to private charters, if you don't have your own boat or are new to the world of sailing. In town, there are a few sailing schools where you may learn the basics.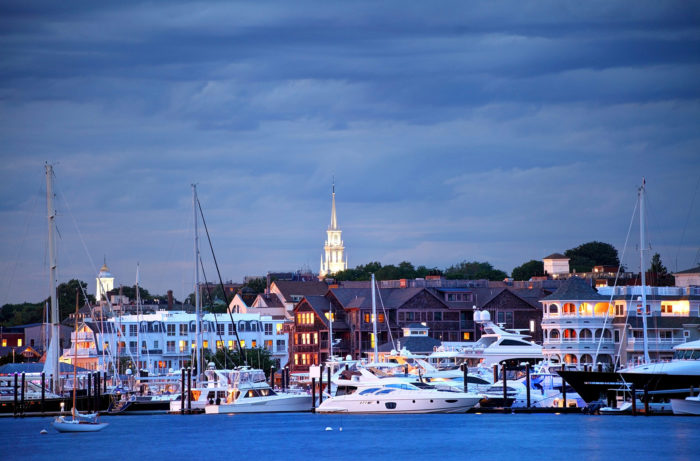 San Francisco Bay
Summer on San Francisco Bay has attraction and promise. Strong winds, quick currents, eerie fog, ever-changing weather, and heavy traffic will engage and challenge you as a sailor, sharpening your skills and increasing your confidence. There's something unquestionably thrilling and inspiring about sailing well in strong winds. However, keep in mind that practical knowledge, planning, and practice are essential for summer sailing in order to be safe. 
 San Francisco Bay is a famous destination among tourists and sailors. And, sailing in San Francisco is something you must try if you ever visit the beautiful California city. There's more to do there as well, but sailing the San Francisco Bay is truly unique. Obviously, the main reason is to see the sites. Some of the best in the country, if not the world, can be found in San Francisco.
For example, if you go sailing in the Bay region, you can see places like the famous Alcatraz prison island, Angel Island, Sausalito, the gorgeous Golden Gate Bridge, and, of course, the magnificent city of San Francisco from the water – and the perspective is completely different and well worth it. Watch the sunset over the San Francisco Bay from beneath the Golden Gate Bridge, then sail along the San Francisco waterfront's gorgeous night skyline. There are also many seals, sea birds, and even dolphins to see! 
Angel Island is a fantastic place and a must-see for sailors. You may dock there and trek to the summit for a breathtaking vista. You can also sail to San Francisco's Plant Cafe, dock there, and have a delicious meal. Sail below the Bay Bridge for a unique perspective. Note that Clipper Cove, on Treasure Island, is one of the best-protected anchorages in the Bay. Just keep an eye on the nautical charts because the entrance can be rather shallow. You can sail up to The Brothers Islands, past the San Rafael Bridge. For excellent views of the city, anchor in Richardson Bay (off Sausalito) for the night. Don't omit to sail around the island of Alcatraz. Lastly, between Golden Gate and Alcatraz, consider going to the highly windy location.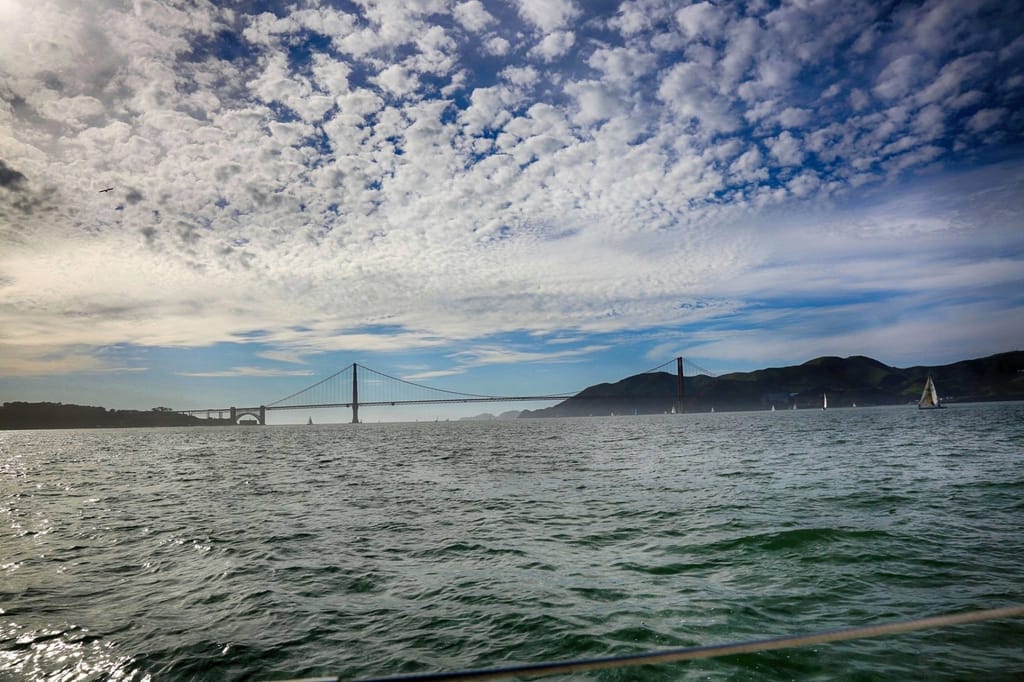 Chesapeake Bay
If you live in Maryland, Virginia, or Washington, D.C., you have access to the Chesapeake Bay, one of the world's top cruising destinations. The Chesapeake is a big body of water that appears smaller than it is. It stretches 200 miles from the mouth of the Susquehanna River in Havre de Grace, Maryland, to the Virginia twin capes. It varies in width from 3 miles wide in the north to 25 miles wide in the south. Its lowest point is 200 feet south of Bloody Point on Kent Island, while being notoriously shallow in some of its finest creeks and bays. Those who like to explore will find almost any navigational situation they can think of. Furthermore, the weather and associated surface conditions on the Chesapeake Bay vary a lot from season to season. 
The Chesapeake Bay has a lot to offer, from fishing and national parks to delectable seafood like crabs and oysters. There are lots to see and do at this 4,000-square-mile destination. The Wye River is one of the most idyllic and tranquil places on the planet. It has that special magic to take you away from the hustle and bustle of city life and transport you to the Chesapeake Bay. Dividing Creek, a secluded small cove hidden into Wye Island, is one of the greatest anchorages in the Wye. Consider getting your dinghy in order to explore the coastline. 
Historic St. Michaels lies a short distance down the Miles River. There are numerous marinas, a large anchorage, a regular launch service, and a wonderful range of restaurants and pubs in this town, which is arguably one of the most attractive and popular on the bay. While St. Michaels is known for its sailing heritage, Annapolis is the bay's modern-day sailing capital. You'll find everything you need for sailing here, including gear, parts, repairs, advice, and sails. Annapolis, once the capital of the United States, is one of the bay's most historic and well-preserved waterfront cities. 
Swan Creek is also worth a visit, located just north of the Bay Bridge. Rock Hall, like St. Michaels, is the primary town here, and it's a lovely ancient and historic Eastern Shore town. The only true "city" on the northern bay, Baltimore is well worth a visit. Henderson's Wharf Marina, in the middle of Fells Point, is a fantastic anchorage. You're close to some of Baltimore's top pubs, restaurants, and live music venues. If you have more time, the Hudson and Honga rivers, Smith Island, Worton Creek, and Island Pond are all fantastic places to visit in this portion of the bay. In fact, the unlimited possibilities are what you'll appreciate most about this body of water.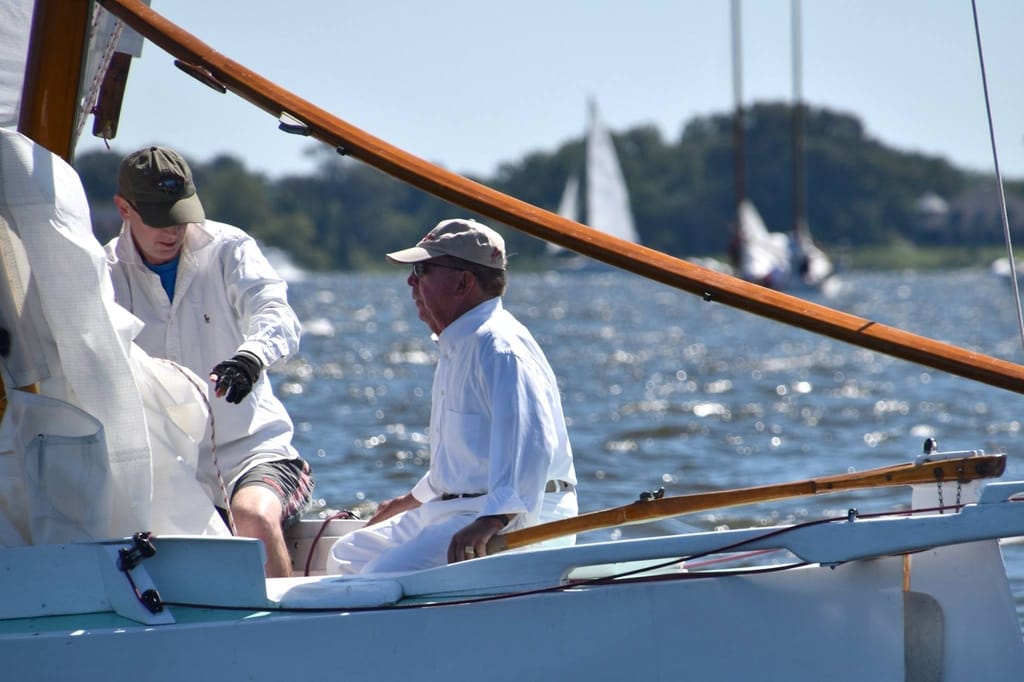 Penobscot Bay, ME
Penobscot Bay is surrounded by natural beauty and wildlife, with easy access to charming waterfront communities. With eleven large islands and a plethora of minor islets and bays, the terrain and shoreline are diverse and one-of-a-kind.
There are plenty of lovely towns and villages to have your sailing base. From Rockland and Rockport to Castine and Northhaven. Smith Cove, near Castine, is a typical anchorage in the area, with a tree-lined shoreline, and wildlife preserves with seals, porpoises, and birds. Seal Bay on Vinalhaven is more secluded and tranquil. This is because it is outside the reach of cell phones and electrical noise. You'll be surrounded by woods, with seals, birds, and other boats that anchor there.
There are a hundred anchorages like these to select from in Penobscot Bay. They range from a busy urban basin to secluded and wild locations where you'll only see the plain nature. Always remember to enter these isolated harbors with caution. And, take care because the tides are extremely high. Most of the hazards and rocks that disappear at high tide will be apparent as you pick your way through. And, even if you enter when the tide is rising but still low.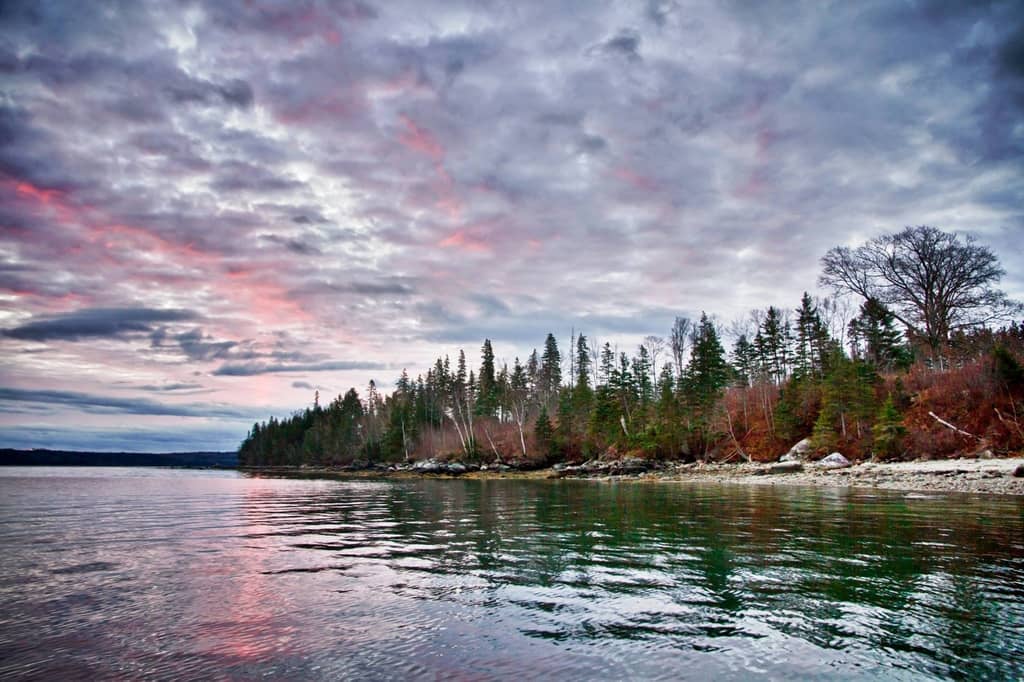 San Juan Islands, Washington
Sailing enthusiasts will be amazed by this scenic location in northwest Washington state. The climate is mild all year. The average temperatures are 70 degrees in the summer and 40 degrees in the winter. This climate makes the destination one of the best places in the United States to sail in all seasons. It offers a wonderful escape from the state's coast, past Bellingham Bay.
The San Juan Islands are a sailing destination for the Pacific Northwest. Sailing groups in this area offer all you need for a successful voyage, from the weekend sailing to and week-long voyage. If you're new to sailing, the best time to go is in the spring. This is when the winds are calm and great for sailing. The islands provide beautiful trekking and explorations in the summer, which sailors like stopping to enjoy the scenery.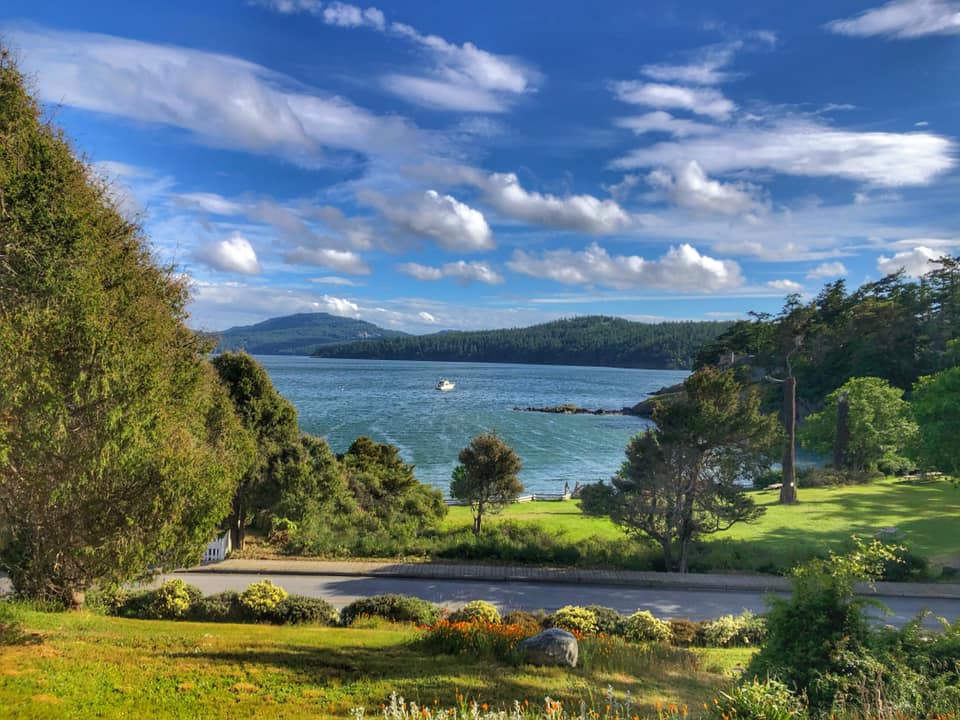 Grand Haven, Michigan
Sailing isn't limited to the sea! Many sailors flock to Lake Michigan for the freshwater's clear blue color and the coastal attractiveness of Grand Haven, Michigan. Grand Haven is recognized for being the United States' first official Coast Guard City. This is because there are two Coast Guard Festivals every year.
If you've never visited The Great Lakes, bear in mind that you can sail until you can no longer see land! Lake Michigan's grandeur is a sailor's dream. Sail down the beach or travel out into the horizon to be in a secluded area. Note that even though it's a lake, the water may get as turbulent and dangerous as the ocean. The months of May through October are ideal for sailing in Grand Haven.
Knoxville, Tennessee
Although Knoxville may not appear to be a sailing option trust me it's worth the voyage. This seaside city located north of the Smoky Mountains is the ultimate cruising destination. It's a location flying under the radar and sometimes unnoticed by tourists. The Tennessee River flows through downtown, creating miles of navigable waterways to explore. Also, note that many prominent boat manufacturers have selected Knoxville as their headquarters. From kayaking in peaceful inlets to exploring hidden coves off the coast and the 373 miles of Tellico Lake shoreline, Knoxville is a boater's paradise.
Santa Catalina Island, California
California is the country's coastline state, stretching thousands of kilometers along America's Pacific Coast. Boaters have long flocked to the area to enjoy the laid-back beach ambiance. There you will admire the natural beauty of the shoreline, and take in the flashy waterfront towns of Los Angeles and San Francisco. Sailing to Catalina Island, just south of Los Angeles, is a traditional Californian sailing experience. This picturesque small island transports visitors back in time. As you sail to the resort village of Two Harbors, keep an eye out for dolphins and whales. Cruise the coast, stop at secluded turquoise blue harbors, or moor at the marina and set off to explore the mountains.
Santa Catalina is a charming channel island that has become one of the best spots to sail in the United States. You'll quickly forget that smoggy, crowded Los Angeles is just a boat trip away. In Santa Catalina you will be surrounded by gorgeous white sand beaches and the clearest waters. Avalon, the island's capital, is home to many of the island's mooring places. There are also small bays where you can anchor.
The greatest time to visit Santa Catalina Island is in the spring and fall when the weather and sea conditions are most pleasant. Lastly, Southern California summers are often cloudy until late afternoon, and winter storms can create rough seas.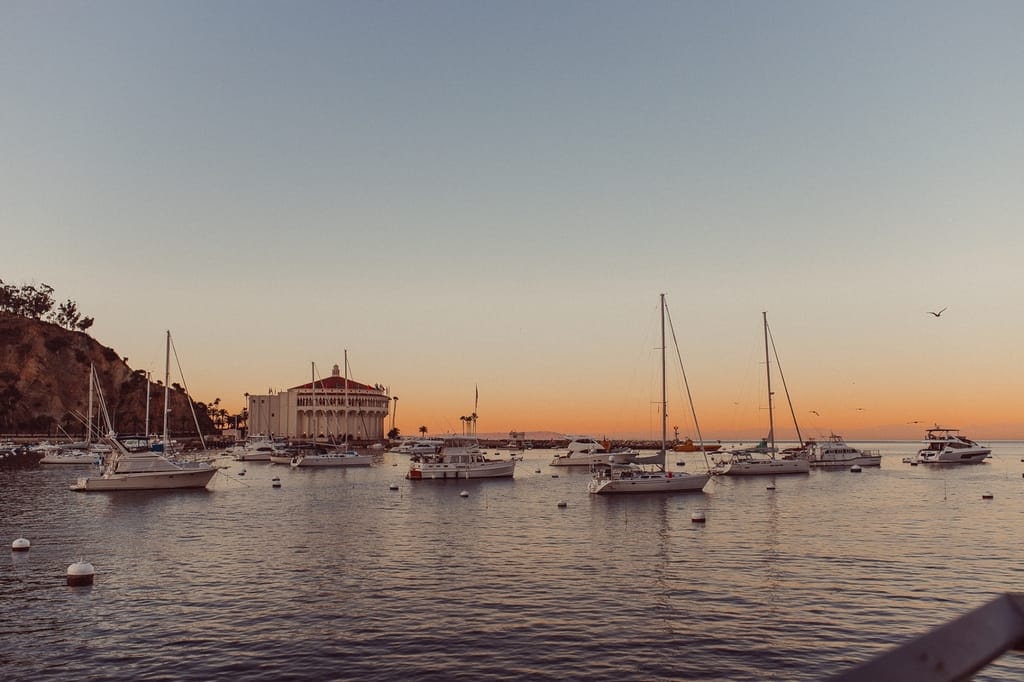 Portland and Casco Bay, ME
The iconic and gorgeous Portland Head lighthouse is the first of dozens of iconic and beautiful lights you'll see on your approach to Portland along Casco Bay. Maine's largest city has a vibrant cultural scene, wonderful restaurants, and a gorgeous shoreline, yet it retains a small-town atmosphere despite its size. Although there is restricted anchoring in town, there are slips and moorings available, as well as adjacent anchorages. Further into Casco Bay, gorgeous anchorages near scenic seashores and lighthouses can be found, while everything from lobster boats to antique schooners and ferries navigate the bay.
This archipelago is dotted with hundreds of islands, so many that it was originally known as the "Calendar Islands," with one for each day of the year. As you leave the city, you'll come across rocky coasts with deep forests, communities situated in the heart of islands, pristine waterways, and the occasional fog. It's not a vast harbor, but it's littered with coves and islets that you could spend weeks exploring in search of that perfect place of beauty.
Nantucket, MA
In southern New England, the Grey Lady is a popular vacation spot. The diversity and beauty of the boats and the foggy scenery, provide a never-ending panorama of things to view even when sitting at anchor. The cobblestone alleys and old whaling-era buildings ashore create an ambiance unlike any other.
You can explore the islands by bike and pedestrian pathways, and many of the beautiful beaches and smaller villages are easily accessible by bicycle or bus. Cycling on the island is easy because it is low-lying and flat, with few severe hills to climb. Great Point, at the very tip of the island, is another favorite destination. To get out there by land, you'll need to rent a four-wheel-drive car, but it's well worth the trek for the isolated, windswept splendor. For a short while, all you will hear is the crash of the sea, the rustle of wind on the dune grass, and birds if you stay on the sand with no one else around.
Martha's Vineyard and Cuttyhunk, MA
Anchoring in the Menemsha Bight with a light southerly breeze allows you easy access to the sleepy fishing community of Menemsha, which has wonderful fish markets and seafood right on the pier. A long, gorgeous beach, panoramic views of Vineyard Sound and the Elizabeth Islands, and peace await you far from the hustle and bustle of the larger towns.
Though entering Menemsha Pond in a large boat is difficult, it is simple to explore in a dinghy. It is now accessible to larger boats due to recent dredging, however, overnight anchoring is restricted. The Menemsha Hills Reservation Trails are open for walking and hiking outside of the village.
Gay Head, located west of Menemsha at the island's far western tip, offers stunning views of Cuttyhunk and the Elizabeth Islands, Vineyard Sound, and the open sea. Cuttyhunk is located across Vineyard Sound from Martha's Vineyard, on the opposite side of her larger, more populous neighbors. There is only one outdoor pizza restaurant, a taco or coffee cart, a fish market, and an ice cream shop instead of waterfront restaurants and pubs.
Cuttyhunk is a small island off the coast of the Elizabeth Islands that can only be reached by boat. The island is dotted with summer residences, but it is never full of people. The island is perfect for hiking with trails, walkways, and roads crisscrossing it. There are very few vehicles and trucks, and most summer inhabitants rely on golf carts or bicycles to get around.
On most weekdays, moorings for boats up to fifty feet are available in Cuttyhunk Pond and outside the channel entrance, but they fill up quickly on weekends, so get there early. No matter where you end up, the Cuttyhunk Shellfish Farm's mobile raw bar, which will deliver your order directly to your boat as you wait for the sunset, is unbeatable.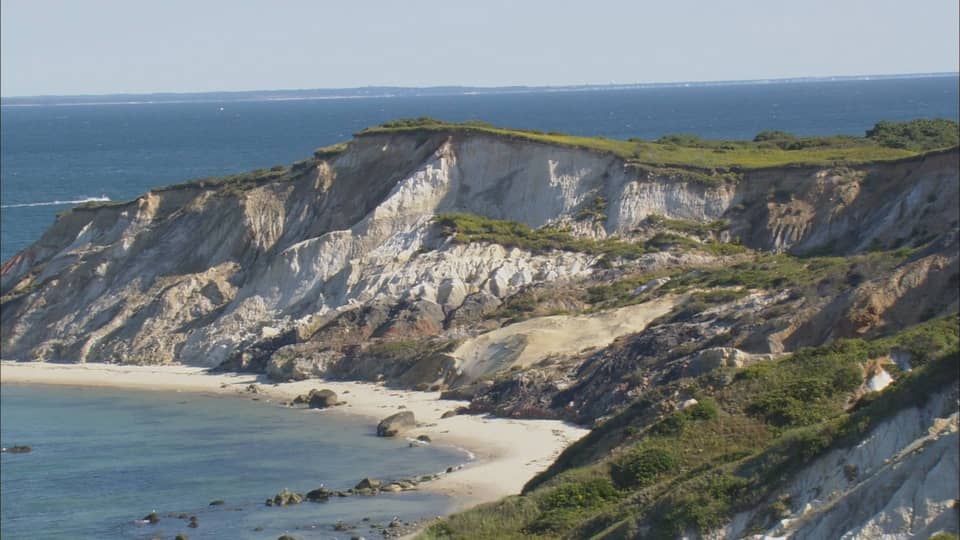 Apostle Islands, Wisconsin
The Apostle Islands, which are made up of 22 islands strewn throughout Lake Superior, is a stunning, gorgeous destination to visit if you want to be away from the ocean yet still enjoy great sailing conditions. Some of the best sailing opportunities are found in the protected harbors and natural beauty of the area. Visitors can organize multi-trip sailing excursions across the islands or charter a private yacht.
Locals can join the Apostle Islands Yacht Club and become part of a community of enthusiastic sailors while also paying to store and launch their boats. Sea caves, which you may sail right into and pause for a swim, are one of the lakeshore's most popular attractions. The Apostle Islands sunsets are equally spectacular, especially when you sail through the quiet twilight waters. Keep in mind that wind shifts, fog, and unexpected storms are common in the Apostle Islands. So, if you're planning a voyage here, keep an eye on the sea and weather forecasts.
Key West, Florida
Key West is the place to go if you're seeking a year-round sailing vacation in the United States. The Florida Keys are a great place to get away from the rest of the country. Tourists flock to this island city, so local businesses offer everything from charters and excursions to lessons and private cruises.
Sailors love the neighboring reefs, especially in the summer when they are most visible, and the beautiful year-round Florida weather can't be better. When the wind is strong, the months of January through April are ideal for sailing. Hurricane season runs from June to November, so plan ahead and keep an eye on the Atlantic weather patterns!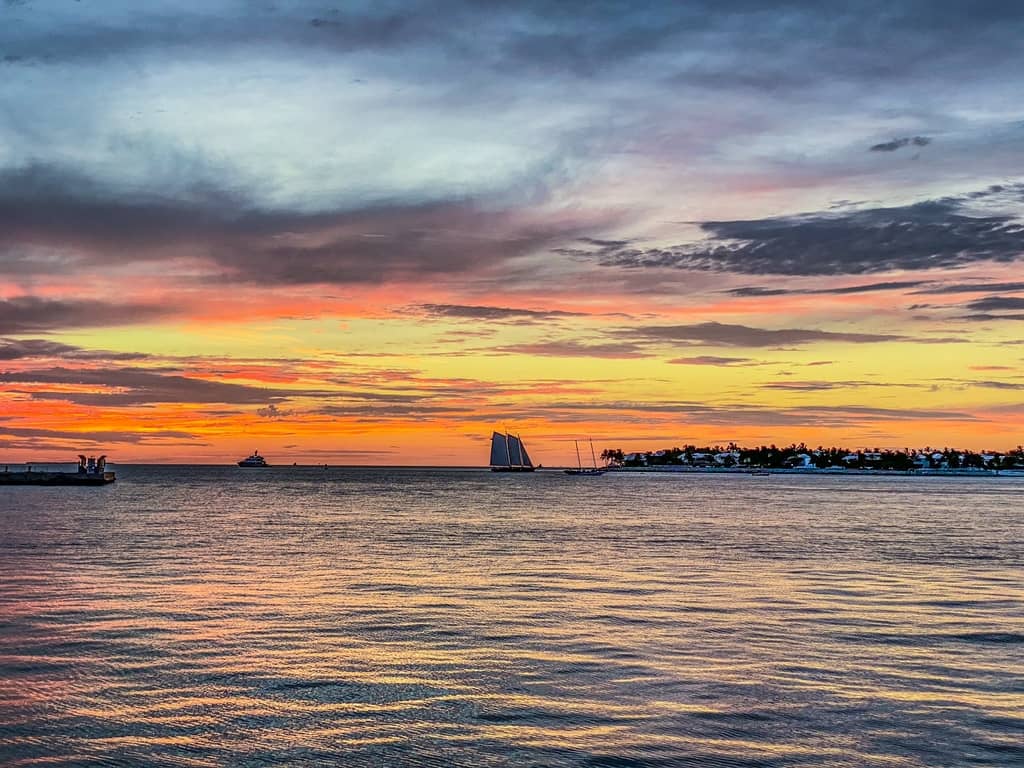 Oriental, North Carolina
Oriental is well-known as a charming sailing town. The Neuse River links with the Pamlico Sound in Pamlico County, create beautiful channels to sail through. Note that sailboats are supposed to outnumber citizens three to one here! It's no surprise that many sailors of all ages adore this lovely fishing area. Throughout the year, the town offers weekly racing and regattas, which are enjoyable for sailors of all ages.
Nestled beside the picturesque Neuse River, which is interwoven with various smaller streams, and where the boating season never stops. Wide seas attract year-round sailing, cruising, kayaking, canoeing, and fishing, and there are regattas almost every month of the year for those who prefer racing. Alternatively, if you're searching for a quiet spot to unwind, visit one of our numerous parks and soak up the charm of small-town riverfront living. Oriental is recognized for its welcoming atmosphere as well as its unique style of celebrating the holidays. If you're a keen sailor who enjoys the sound of waves crashing against your hull, you'll want to visit one or more of these fantastic sailing spots.
Best Places for Sailing in the US – The Bottom Line
In my opinion, these are the top destinations in the US for enjoying your sailing voyage. If you're looking for crowded, well-known, and flashy places you can sail around Florida and California but if you're more into tranquility, exploration, and getting to know traditional seaside towns then Portland, Nantucket, or Penobscot Bay are the ones for you. Of course, there are more sailing destinations to explore but I've picked up the best according to the best weather, sailing, and holiday conditions. I hope that you now have some ideas about where to sail in the US. Wish you all safe & pleasant voyages on the sea or on the lakes!