Best Sailboats to Live On
Is the sea always calling out for you? Whenever you imagine a place at which you are at peace at any time is on a sailboat? Well, then you should consider finding a sailboat to live on. Generally, living on a sailboat is full of wonderful experiences. However, deciding to live on a sailboat sometimes is not easy. You have to consider a lot of things and ensure everything is right for you.
This article explores some of the best sailboats to live on that you can find. It also gives everything you need to know before starting a life on one such boat.
Reasons Why Living on A Sailboat Is The Best
There are a lot of people living on their sailboats. Perhaps it is time that you also decided to give a shot at the liveaboard lifestyle. It requires that you have the stamina to withstand several challenges that may come along. However, these challenges should not be a reason as to why you should not try out. Here are some important reasons as to why this might be a good lifestyle for you.
Versatility 
On a sailboat, it is very easy for you to move from one point to another with your house. This can and will never be achieved with your permanent house. The versatility to move may help you access better environments and avoid certain weathers that are not favorable for you.
It Is Cheaper 
Living on a sailboat is cheaper compared to living in an apartment somewhere. This holds true for those who reside in major waterfront cities like New York, San Fransisco, Los Angeles, etc. Such cities have apartments whose rent is very expensive. Hence, you can decide to save some money by finding a suitable and best sailboat to live on. 
Enriching and Rewarding 
You can decide to take a break from the norm and decide to try life on a sailboat. This will be a fulfilling life that you haven't seen all through. From relieving your stress from financial obligation to enjoying an environment that has unique feelings. 
Challenges of Living on A Sailboat 
You must be ready to face a few challenges if you want to live on a sailboat full time. Space, lack of electricity if you are sailing offshore and humidity are some of the obvious problems when you liveaboard a sailboat.
Limited Facilities 
You will have to survive under limited facilities compared to other normal people. Some of the facilities which may be limited include data and even the normal luxuries such as hot water.
Loneliness 
Life on a sailboat is mostly a lonely life. It is a kind of jail for those who cannot manage staying away from their friends and family for a long time. That is, of course, if you do it alone, if you do it with your partner, you do not have to worry about loneliness. However, you will have to worry about fighting a lot.
>>Also Read: Best Small Sailboats To Sail Around The World
What to Consider Before Buying a Sailboat To Live On? 
Having looked at the reasons why you may want to go in this life on a sailboat, and also the challenges that you might face, here are some of the top determining factors that will ensure that you tolerate the life. 
Financial Limits 
Money defines many aspects of our life, including the life on a sailboat. However, it is not a major influencer here since, in most cases, you are trying to save your investments. The budgets and lifestyles here are very simple, and in the long run, you will save a lot of funds.
The Type of Sailboat 
There is a wide range of sailboats that you can live on. With great sailboats for sale on the used market, you can find a sailboat to live for with under $100k in your pocket. With that budget, you can get a very nice liveaboard sailboat that will make your experience fabulous. Of course, with a higher budget, you can get better and larger boats that will provide more amenities, comfort, and luxury. When going for a liveaboard sailboat, consider such things as:
The cost of the boat- you don't need a very expensive boat for you to enjoy every moment of on it. Go for what you can afford and be comfortable with the expenses that can occur.
Design and build- find a well-designed and strongly build sailboat that may not predispose you to hazards in the water.
Where To Find a Good Sailboat For Sale?
Whether you're looking to buy a blue water sailboat for simple cruising or to live on, buying a boat is the experience of a lifetime. You can find many great values in the used boat market; they can be affordable, seaworthy, well-built, well-maintained, and almost ready to be lived on. To make sure you get years out of your used sailboat, buy smart; ask around, do your research and do a survey to make sure there are no hidden problems on the boat of your dreams.
To get the best possible sailboat for your budget, contact a local broker, visit nearby marinas for a walk to spot "For Sale" signs hanging from the boats, and browse websites like BoatTrader, Boats.com, BoatersWorld, YachtWorld, Boat24, etc. Keep in mind that this list is not obviously exaustive and you wont find many of these boats on the market all the time so you will need to do a little bit of browsing to find your ideal sailbaot.
>>Also Read: Most Popular Sailboats
Features of Good Liveaboard Sailboard
Before unveiling the best liveaboard sailboats that you can go for, let's consider some features of a good liveaboard sailboat. A good sailboat is identified by such features as:
Power Availability 
At least a 12V AC power outlet source should be available on the sailboat. This ensures that your electronics such as computers and phones are well charged. Without a 12V AC source, this may not be possible.
A Well-Designed Galley (Kitchen) 
For your survival on the liveaboard sailboat, you will need a well-equipped kitchen. A good kitchen should at least have a sink, a refrigerator, and a cooking stove. Some even go ahead and include an oven, which is even better.
Head (Toilet)
A toilet should be available on the sailboat and should be adequately supplied with water. This is to ensure that human waste is well disposed to limit outbreaks of some diseases. An outbreak of a disease will make your experience on the boat worse, and that is why you need to have this facility.
Shower
Of course, you will also need to take a shower if you are staying on a sailboat. This is important since some boats may not even consider this and instead go for such things as a marina. Therefore, be on the lookout and choose wisely.
>>Also Read: Best Sailboats Under 100k
Here Are Some Of The Best Sailboats To Live On
People who have been sailing for a while probably know that are great deals out there and can cost under 100,000$. Boats around that price have great conditions for you, which you need to enjoy your stay on the boats. Most of the boats, if not all, are among the best liveaboard sailboats that we have been identified. Here are some of these sailboats:
Etap 37S
'The only unsinkable yachts in the world' was the claim by the manufacturers of this Belgian-built pilothouse cruising yacht. Etap won awards for designing unsinkable, condensation-free, highly-insulated boats built from a foam-filled double skin, which is what keeps them warm or cool, quiet – and buoyant.
She has a 9/10ths fractional rig with double spreaders and a partially-battened mainsail with integrated mainsail cover and furling genoa. There is also a second removable inner forestay. All sailing control lines lead back to the decent-sized cockpit. Below, the cherry woodwork looks neat and smart, and there are three double cabins plus two settee berths in the saloon. She's a stylish cruiser with a little bit of difference, and her less conventional construction adds comfort and safety. Sadly, Etap itself did not prove to be unsinkable – the company was declared insolvent in 2009.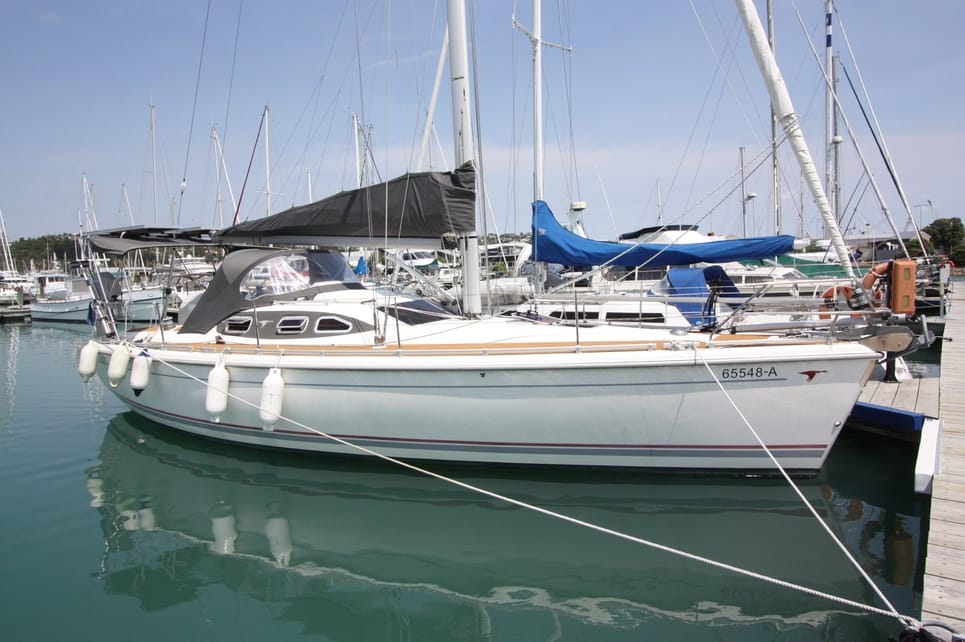 | | |
| --- | --- |
| Overall Length | 36.94 ft / 11.26 m |
| Waterline Length | 32.48 ft / 9.90 m |
| Beam | 12.63 ft / 3.85 m |
| Draught | 6.40 ft / 1.95 m |
| Displacement | 13,999 lb / 6,350 kg |
| Water Tank Capacity | 66 gals / 250 L |
| Fuel Tanks Capacity | 30 gals / 116 L |
| Holding Tank Capacity | 15 gals / 60 L |
| Number of Single Berths | 2 |
| Number of Double Berths | 2 |
| Number of Cabins | 2 |
| Number of Bathrooms | 1 |
| Number of Heads | 1 |
| Hull Material | Fiberglass |
| Hull Type | Wing Keel |
| Rigging Type | Fractional Sloop |
| First Built | 2004 |
| Last Built | – |
| Price (Used) | Under 100,000 USD |
Hallberg Rassy 36
Although she may be considered small by today's standards, the HR 36 is the small boat with a big impact – and easily big enough for a cruising couple looking for a sailboat to live on. It was a popular and successful yacht and one of Hallberg-Rassy's best sellers – the Swedish yard produced 606 hulls between 1989 and 2003. She was designed by German Frers to 'go anywhere, any time' and is more comfortable offshore than you'd expect from a 36-footer. The boat is sturdily-built, with the mast coming down through the main bulkhead, and there's a large chart table. Furthermore, storage space is something valued on a cruising liveaboard sailboat, and the Hallberg Rassy 36 has lockers pretty much for her full length, on both sides. She has ample headroom at 1.91m (6′3) in the saloon and plenty of storage in all areas of the boat.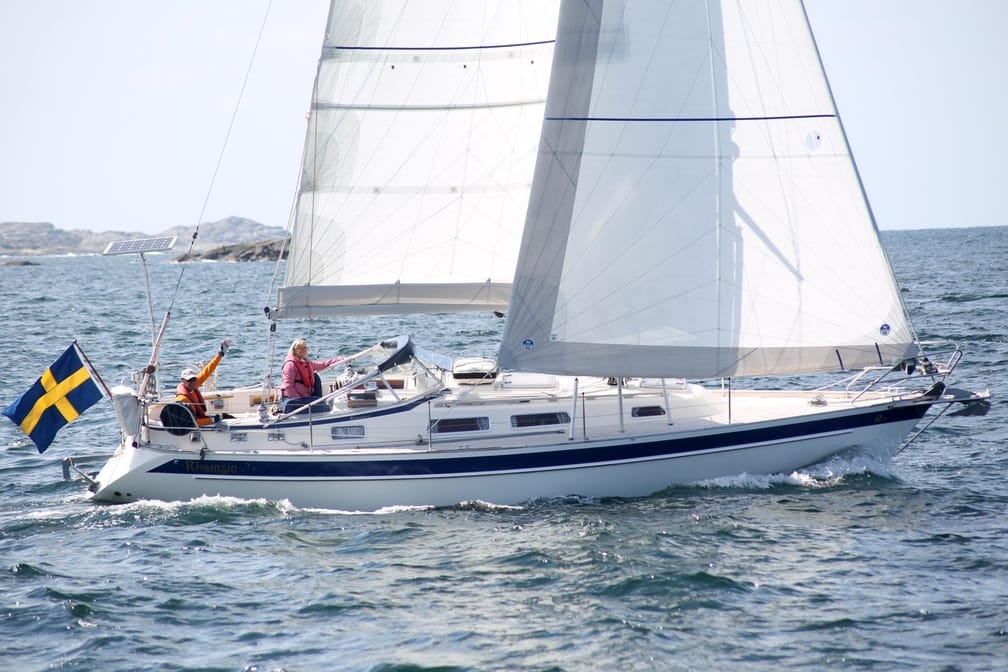 | | |
| --- | --- |
| Overall Length | 35.66 ft / 10.87 m |
| Waterline Length | 28.61 ft / 8.72 m |
| Beam | 11.65 ft / 3.55 m |
| Draught | 6.14 ft / 1.87 m |
| Displacement | 16,534 lb / 7,500 kg |
| Water Tank Capacity | 310 L / 82 US Gallons |
| Fuel Tanks Capacity | 335 L / 89 US Gallons |
| Holding Tank Capacity | No Waste Tank |
| Cabins | 2 |
| Berths (Min/Max) | 5/8 |
| Number of Heads | 1 |
| Hull Material | Fiberglass |
| Hull Type | Fin With Rudder on Skeg |
| Rigging Type | Masthead Sloop |
| First Built | 1989 |
| Last Built | 2003 |
| Price (Used) | Around $100k USD |
Dehler 41 DS
If you hate having to motor along in the rain, this could be the boat for you. The Dehler 41DS has a navigation station inside the saloon, on the port side, so you can sit looking forward, out of the windows, and steer using a joystick – not your standard set-up on a sailing yacht. She is built for comfort in other ways, too – rigged for single-handed sailing and with a U-shaped leather couch in the saloon. Clever touches make the best of the space while not scrimping on facilities, like the ability to fold away the throttle and joystick panel at the vertically-mounted slide-out chart table; Jack and Jill doors in the en suite; and an efficient linear galley. And, should you bite the bullet and choose to stand outside getting wet, there's a vented and drained oilskin locker in the master heads.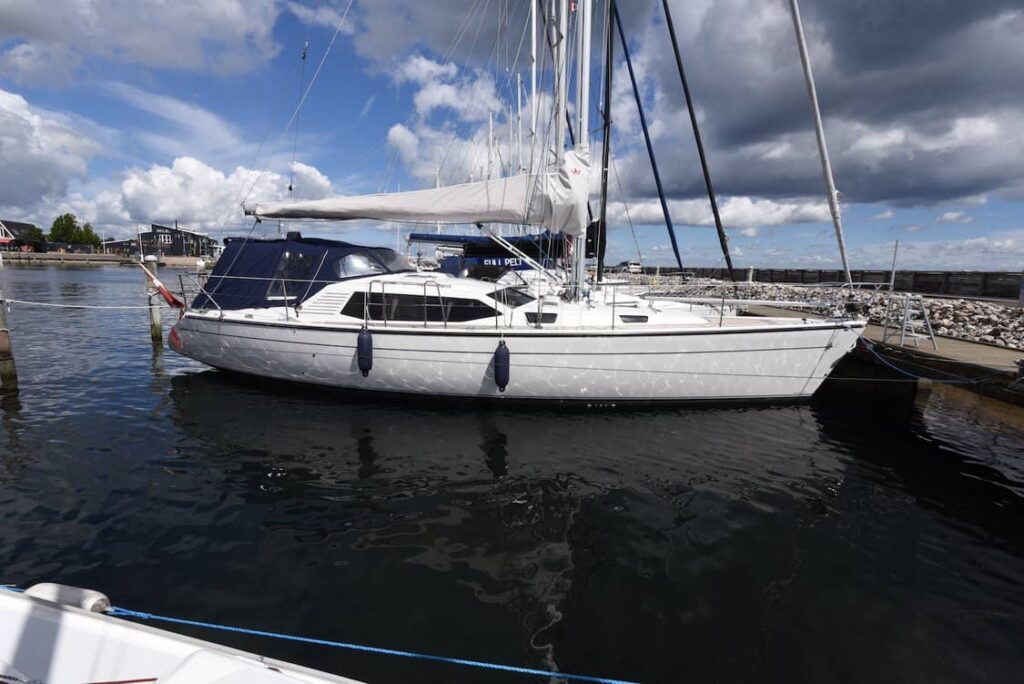 | | |
| --- | --- |
| Overall Length | 40.85 ft / 12.45 m |
| Waterline Length | 36.25 ft / 11.05 m |
| Beam | 12.80 ft / 3.90 m |
| Draught | 6.56 ft / 2.00 m |
| Displacement | 19,621 lb / 8,900 kg |
| Water Tank Capacity | 106 gals / 400 L |
| Fuel Tanks Capacity | 48 gals / 180 L |
| Holding Tank Capacity | 15 gals / 60 L |
| Cabins | 2 |
| Berths (Min/Max) | 6 (1x Double Cabin; 1x Triple; 1x Saloon) |
| Number of Heads | 1 |
| Hull Material | Fiberglass |
| Hull Type | Fin With Spade Rudder |
| Rigging Type | Fractional Sloop |
| First Built | 1996 |
| Last Built | – |
| Price (Used) | From $100k |
Beneteau First 42s7
Designed by Bruce Farr in 1999, the Beneteau First 42s7 an ideal family cruising yacht as well as a great sailboat to live on under 100k. She can sleep up to eight in the three cabins and boasts a very comfortable and stylish Philippe Starck interior throughout. There are two heads with an additional shower in the cockpit. The saloon has a large seating area to starboard and galley to port, behind which is a large chart table.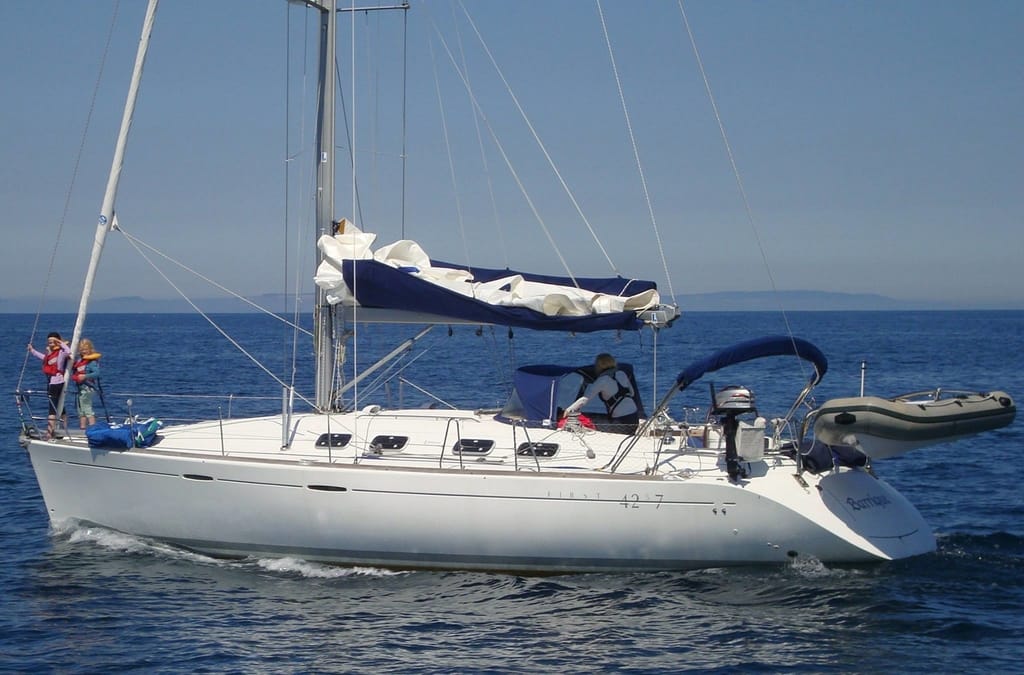 | | |
| --- | --- |
| Overall Length | 42.50 ft / 12.95 m |
| Waterline Length | 35.75 ft / 10.90 m |
| Beam | 13.50 ft / 4.11 m |
| Draught | 7.58 ft / 2.31 m |
| Displacement | 18,220 lb / 8,264 kg |
| Water Tank Capacity | 160 Gals / 606 L |
| Fuel Tanks Capacity | 40 Gals / 151 L |
| Holding Tank Capacity | 40 Gals / 151 L |
| Cabins | 2,3, and 4 Cabin Versions |
| Berths (Min/Max) | 6/8 |
| Number of Heads | 2 |
| Hull Material | Fiberglass |
| Hull Type | Fin w/Bulb & Spade Rudder |
| Rigging Type | Fractional Sloop |
| First Built | 1994 |
| Last Built | – |
| Price (Used) | Under 100k |
Nautor's Swan 38
One of the most popular of all the Nautor models, a total of 116 Swan 38s were built between the years 1974 and 1979. She has superb lines, is a delight to sail, and exudes quality and comfort. She has excellent sea-keeping qualities and does not have a problem when combating heavy seas. Also, the Nautor's Swan 38 is quite capable for an experienced captain who wants to cover distances as long as for someone who looks for a sailboat under 40 feet to live on.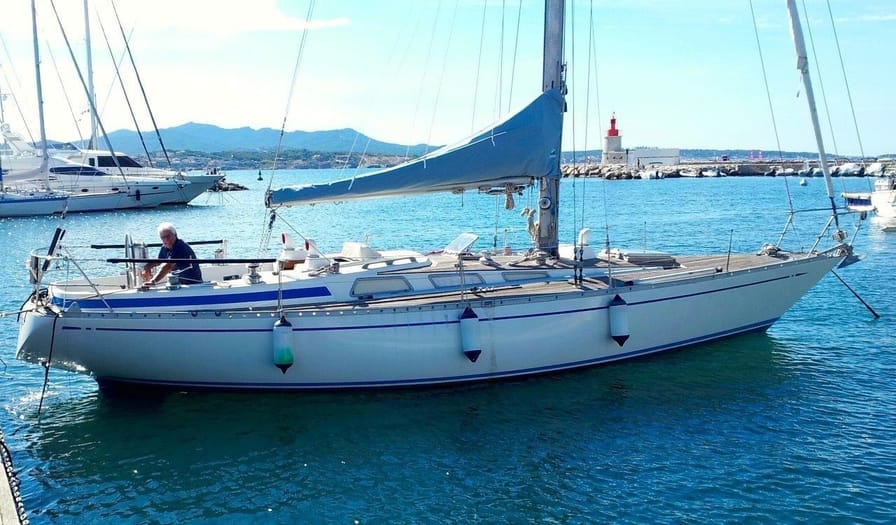 | | |
| --- | --- |
| Overall Length | 38'3″ /11.6m |
| Waterline Length | 28'5″ / 8.7m |
| Beam | 11'7″ / 3.5m |
| Draught | 6.30 ft / 1.92 m |
| Displacement | 18,300 lb / 8,301 kg |
| Water Tank Capacity | 220ltr / 48.4 gallons |
| Fuel Tanks Capacity | 110ltr / 24.2 gallons |
| Holding Tank Capacity | 90 L / 24 gals |
| Cabins | 2 Cabins V-Berth Forward and 2 Berth Cabins |
| Berths (Min/Max) | 8 |
| Number of Heads | 1 |
| Hull Material | Fiberglass |
| Hull Type | Fin With Spade Rudder |
| Rigging Type | Fractional Sloop |
| First Built | 1974 |
| Last Built | 1979 |
| Price (Used) | Well Under $100k |
Pearson 34
Pearson 34 are among the oldest sailboats under 40 feet to be produced. They first appeared in the 1980s. It is a 34-foot sailboat with a spacious interior, a feature which you should be keen on when searching for sailboats. Some of its features are highlighted here:
A functional kitchen nook with places to store kitchen utensils
An enclosed head which is also spacious 
The head includes a bathroom sink and a mirror.
Generally speaking, Pearson 34 gives you a feeling of being home. Despite the fact that it may seem a little compact for a liveaboard sailboat, it is a good yacht for you to consider with a price of around 50k.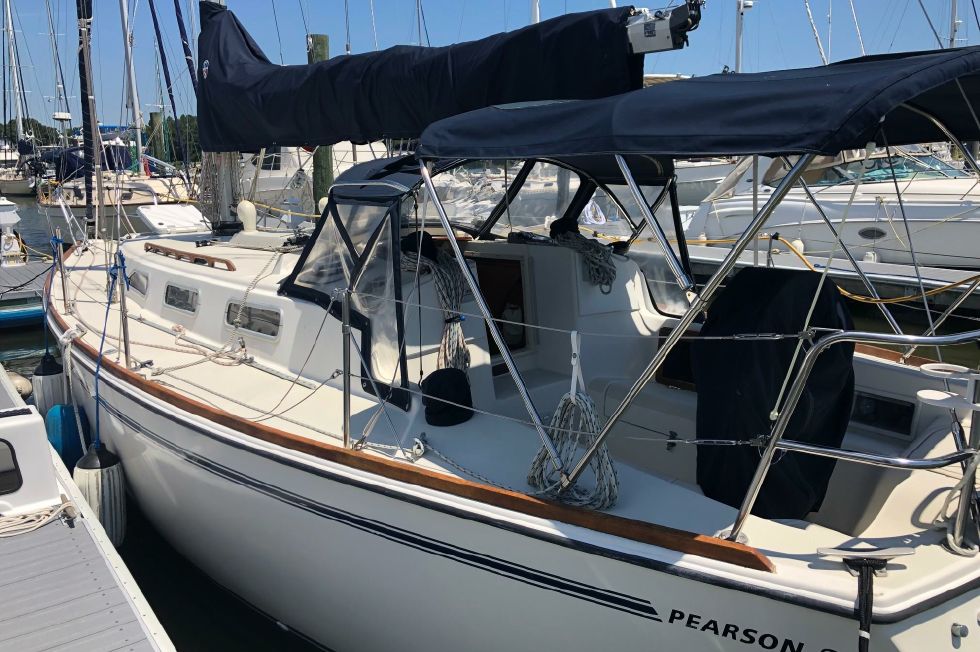 Nordic 40
Recognized as among the largest boat, the Nordic 40 has some of the best liveaboard facilities compared to most other sailboats under 40 feet. Some of the features include:
A spacious master bedroom
A kitchen which is almost full
Extra storage
Nordic 40 is a rare sailboat but a worthy boat if you ever come across one for sale. The spacious interior is its major attraction, ensuring that you have pretty everything you need onboard for as long as several weeks or even months. You will rarely find one for sale but when they d pup up they come at a price tag of around 150,000.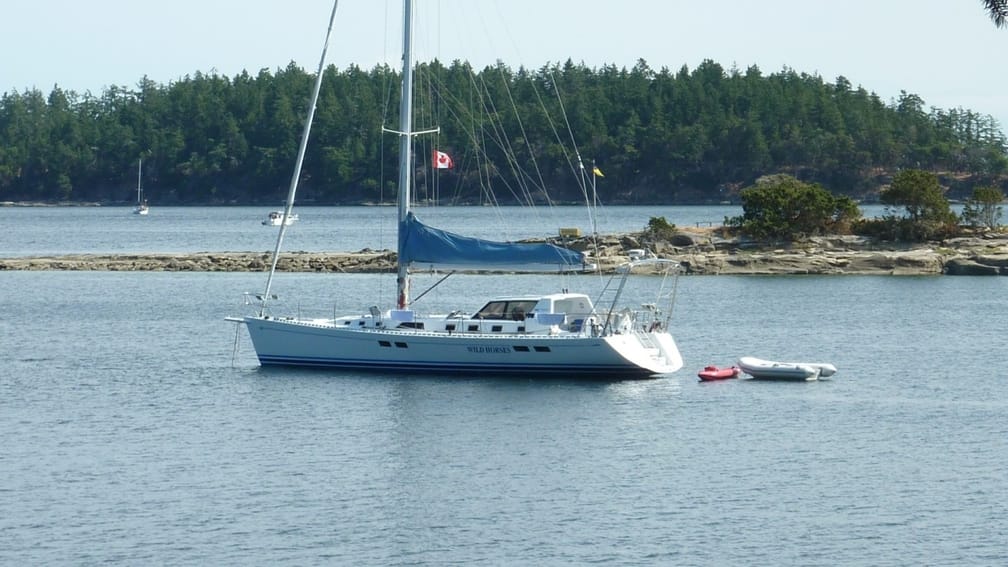 Contessa 32
For a great liveaboard sailboat under 40 feet, the Contessa 32 is a very good example. Its cruising capabilities are just on another level, unlike most sailboats that you will encounter. However, it also deals with liveaboard functions as well and does them equally well. Some of its features include:
A well-designed traditional cabin 
It has a separate master bedroom
And a head and a shower
If organization is your thing, then find Contessa 32 and make good use of it. The Contessa 32 was built from 1970 to 1977 and you can find them for sale between 25,000 and 50,000.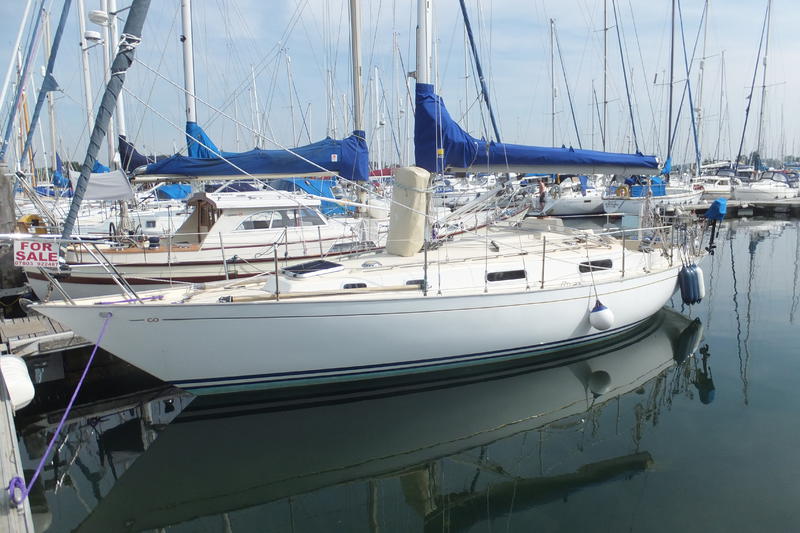 Beneteau 57
The Beneteau 57 is a classic cruiser that came out of Bruce Farr's design studio in 2000 – a production boat with a long list of standard features and a luxurious edge. One of her most striking features is the helm, which sits on the front port side of the center cockpit, behind a fixed windscreen. It might feel a little odd, but it creates more space in the cockpit, which is invaluable while bluewater cruising and a liveaboard sailboat.
Accommodation is in four cabins, including an aft owner's suite with its own saloon and a spacious bathroom with a shower. The galley is fully equipped with everything you will even need to cook up a feast, including a gas stove and oven, microwave, ice-maker, and a fridge/freezer. All sails are roller furling, with powered winches. This is a very comfortable liveaboard sailboat that offers many amenities and luxuries. However, it comes with a steep price tag. There are many of these for sale from 250,000 to 600,000 UDS depending on the year that was built.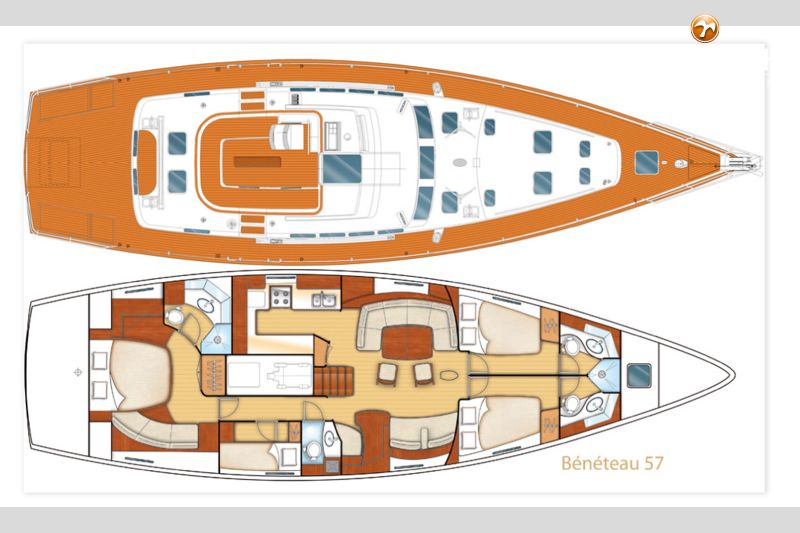 Hunter Legend 36
Legends, called Hunters in America, are known for their roomy feel and comfort, which is ideal if you are looking for the best sailboat to live on. Despite being 36ft, she has 6ft 5in of headroom in the saloon, a kingsize bed in the aft cabin, she can fit eight round the saloon table for dinner and can sleep seven people – four in the two double cabins plus three sea berths. Legend's fractional B&R rig with its swept-back spreaders, long boom, and no backstay, seems to divide people into two camps – either they enjoy sailing these yachts, saying they are easily handled, or they hate them, complaining that they are hard to point.
The bilge keels have a Marmite effect, too – but there's no denying the advantage of being able to dry out like this. Built in the UK by Luhrs, she has a fiberglass hull with Kevlar and structural grid reinforcements. If you can find one for sale that would be around 75,000 USD.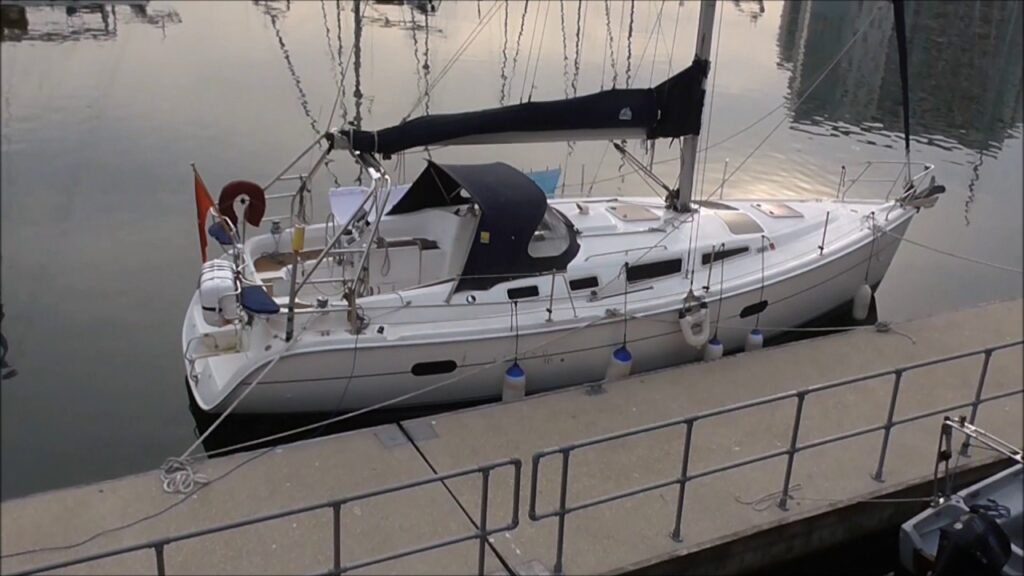 Hallberg Rassy 40
This is a beautiful blue water, long-distance sailboat that is great to live on. This is an award-winning yacht built to the highest standards of equipment and comfort. Characterized by the distinctive Hallberg-Rassy fixed windshield with integrated folding dodger, teak decks and coamings, 2 cabin layout with a traditional v-berth and master aft cabin which offers great comfort for long-distance sailing and a great liveaboard sailboat. It is a little on the expensive side, but it is definitely worth looking at if it fits your wallet. The Hallberg-Rassy 40 was built from 2002 to 2015 and there are plenty one sale online for around 300,000 USD.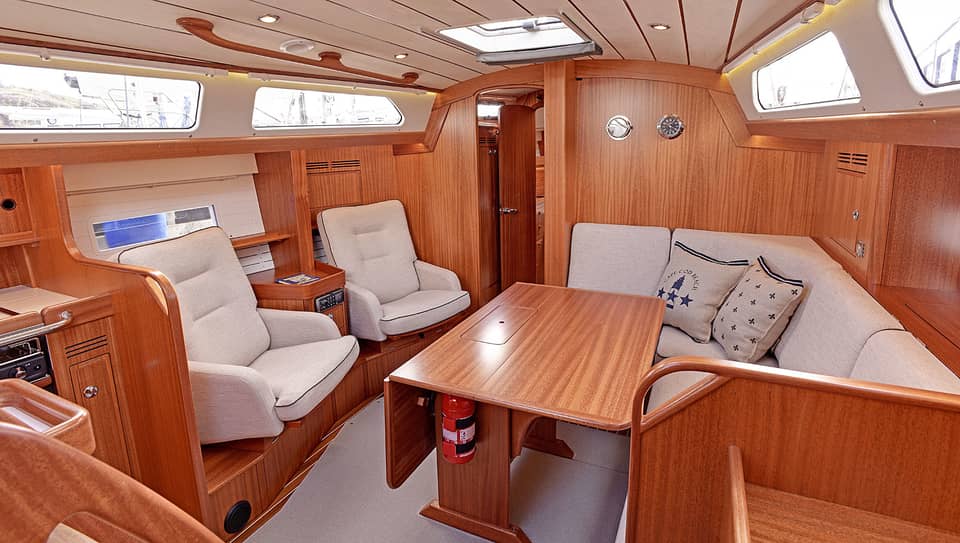 Catalina 30
This sailboat is the smallest one on list. It is very popular, and when looking for sailboats, most likely, you will tumble into one. Such boats have been cruising the sea from as early as 1972 but are still viable and able to make your liveaboard experience worthwhile. It is a 30-foot boat; hence if you like sailboats under 40 feet, then grab this one and enjoy your life on the water. As it is expected from a sailboat this size, it lacks some luxuries but you have to keep in mind that it is the smallest and cheapest on the list. Features of Catalina 30 include:
Large kitchen with almost everything you need
Water is available in plenty
A master bedroom
It has an enclosed shower and head
A dinette that can also be used as a workspace for you
This is perhaps the ultimate liveaboard sailboat you have been looking for if you are on a tight budget. It provides with almost a similar environment as your permanent home and therefore makes your life awesome while sailing. Since Catalinas are very popular boats in the US and are built here you will be able to find many offers online for less than 30k-50k USD.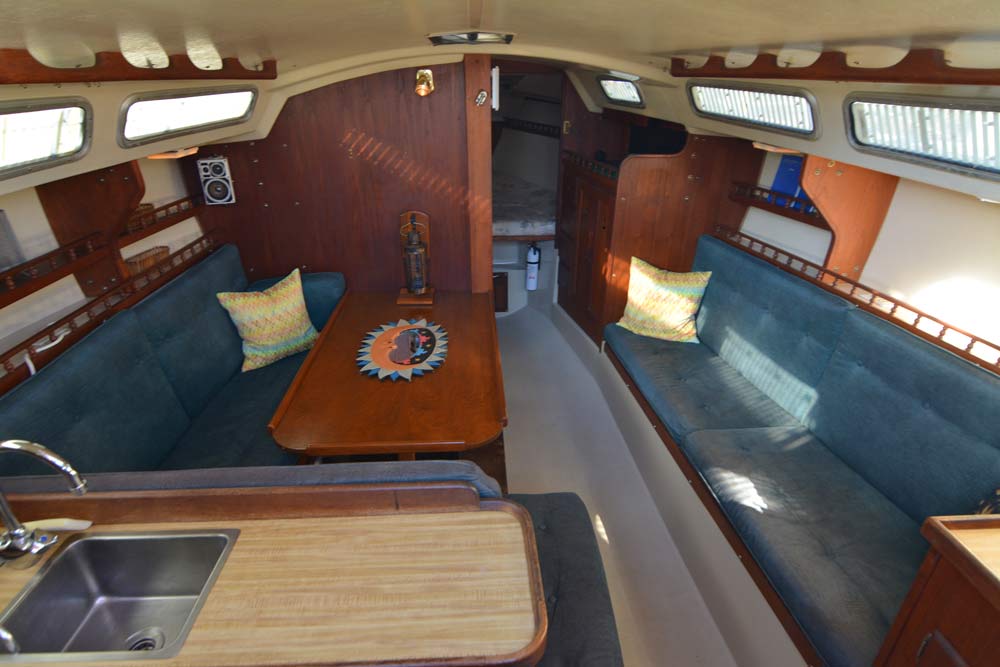 Moody 38 CC
A very tidy-looking yacht designed by Bill Dixon and built in the UK by Marine. The center cockpit design means there's room below for a wide aft master cabin, with access direct to the heads. The other cabin is in the forepeak, and the dining table folds down to allow access through the saloon. There's cherry woodwork throughout, and the two saloon seats convert into single berths. The nav station with chart table is to port. The linear galley to starboard has twin stainless steel sinks, coolbox, and two-hob burner with oven and grill. As the broker that I contacted regarding this type of boat says, "a lot of boat for the money" and just right for the person looking for a great liveaboard sailboat under 40 feet and under 100k.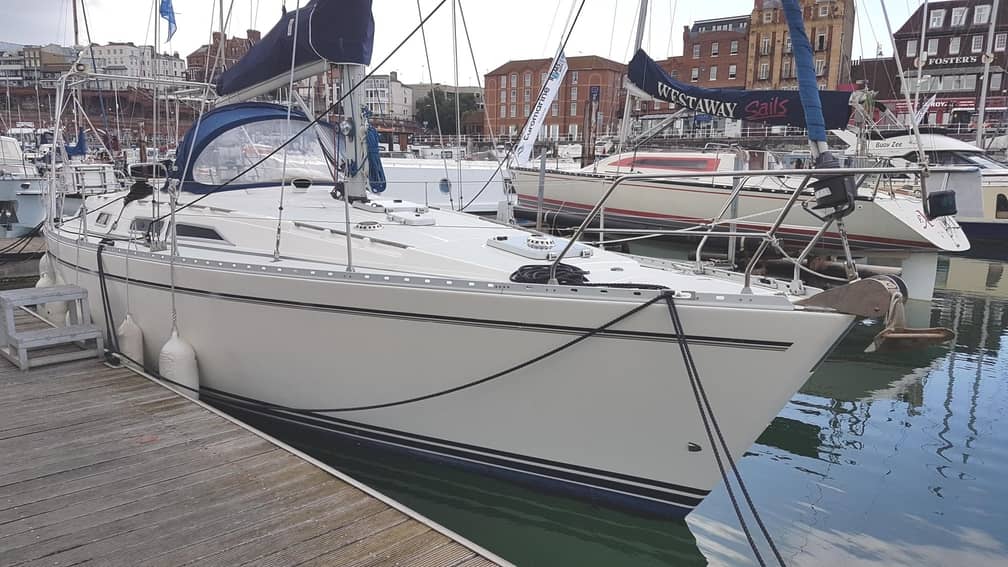 Cal 34
Cal 34 is an old yacht whose potential as a liveaboard sailboat makes it among those you should go for. It was first produced in the late 1960s and early 1979s. New Cal 34 sailboats are still being produced, and you may find one. It has several features that make it suitable for you if you wish a sailboat to live on. These include:
A master bedroom
Has a shower and toilet
A good storage place for clothes and food
Well designed mechanical, electrical, and plumbing systems 
You realize that cal 34 has a simple interior. This is to ensure that maintenance is simple and does not take a long time. Basically, it is also a good choice to go for if these features are good for you. This is a very affordable liveaboard sailboat and you can pick one up in good condition for less than 30k and a fixer-upper for around 15k.
Tartan 395
Tartan has been building beautiful, high-quality cruising boats in Ohio for nearly 60 years and has a well-earned reputation for building some of the highest quality sailboats in the world. With epoxy hulls and carbon rigs that will last lifetimes, the boats are as much heirloom quality as they are proper yachts. The Tartan 395 is a 39-foot family cruiser that is designed to sail well and be able to live on while giving its owner confidence that the boat is set up to face all conditions. The double-headsail rig, with a Solent style jib mounted inside a large genoa, provides a very useful and flexible sail plan that can be reefed or unreefed from the cockpit easily. 
The boat comes with a standard cruising fin keel, but for owners who sail in shallow areas, a keel-centerboard version is also available. The interior plan has a large double cabin aft to starboard that will be the owner's cabin. Forward there is a good center-line double berth in the guest cabin. The head and shower area on the port side of the saloon aft and the chart table is across from it. The U-shaped dinette has a table with folding leaves, and across from it is a bench settee. Tartan is a company that should be considered an American treasure, and for those who are looking for a classic, American style yacht that is built uniquely for them, then Tartan is the builder for you. The price for a sailaway Tarta 395 is around $425,000 USD.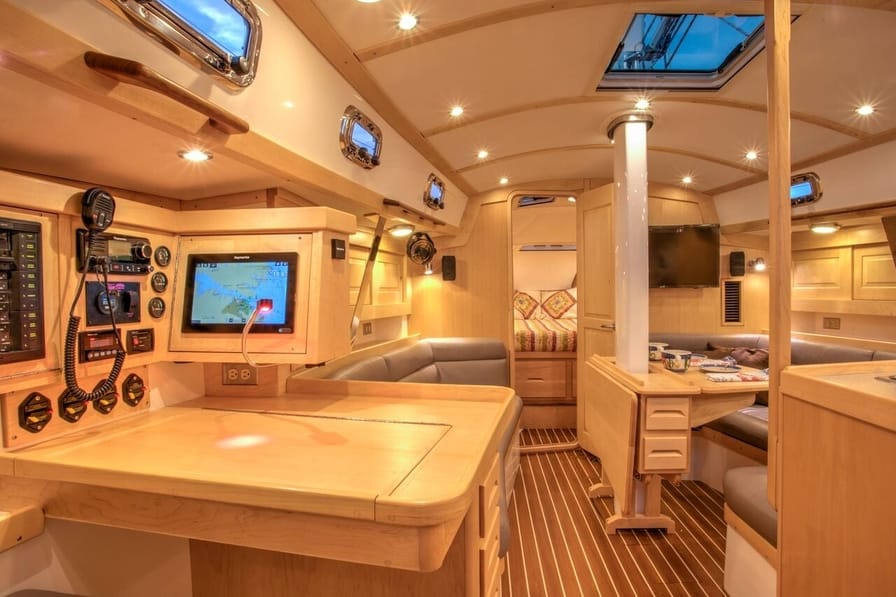 Leopard 50
If you want a lot of space and you can afford to splurge, then the Leopard 50 is the ideal sailboat to live on. While an owner might choose the Leopard 50 for its overall ease of handling and performance, there is no question that at the top of the list of positive qualities will be the boat's spaciousness, accommodations, and dedication to comfortable living. The Leopard 50 is for someone that wants to live on a sailboat full time but doesn't want to make any compromises as far as comforts that are available in a modern house.
This will be the most expensive sailboat on the list but I had to include something for my most affluent readers too. A late model Leopard 50 filly equipped to start your liveaboard life will run you around 1 Million USD. However, the base price is around $700,000 but will lack some comforts that people looking at liveaboard sailboats in this category will want.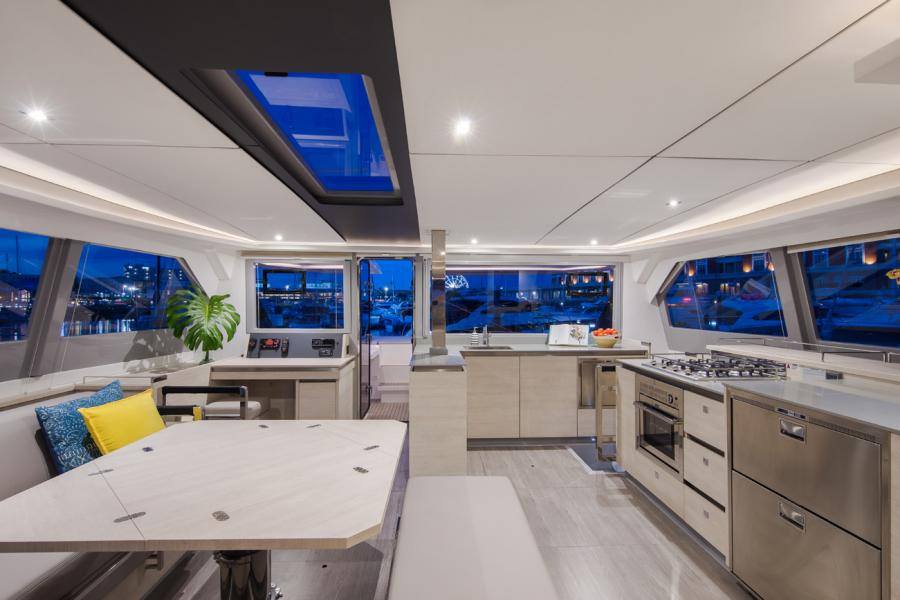 Fountaine Pajot 67
I am sorry; I lied. This is the last boat on the list and by far the most luxurious and expensive. One of the world's top three builders of cruising cats, the French company Fountaine Pajot has built this 67 footer that will be the flagship of their fleet of cruising cats. FP builds six models of cruising cats from 40 to 58 feet. Over the years, FP has sold a lot of cats into charter fleets, but in recent years their emphasis has changed to focus also on the luxury private yacht market. The Fountaine Pajot 67 catamaran that promises to redefine luxurious cruising as well as provide all comforts a large luxury apartment can provide.
The boat has a flying bridge with a lounging area, plus a large aft cockpit with a dining table and a forward cockpit with its own hot tub and lounge. Several layout options are available, from four cabins with en suite heads to six cabins with four heads. Crew quarters are available in the bows of both hulls. The standard layout has the galley in the saloon, but you can have a version that puts the galley down in the starboard hull. The 67 will make a great liveaboard sailboat, but it also will make a fine and luxurious long-range cruising boat for a large family.
This catamaran is a huge sailboat and larger than most modern homes. It is suited for even large families since it comes with 4 double cabins, one double berth, and 2 V-berths. This sailboat can sleep up to 14 people in the cabins with a possibility to accommodate more into the huge bridge saloon. Price is around 2.5 to 3 Million USD. If I being honest, I would love to own this one myself but unfortunately, it is not even in the realm of my imagination. Maybe someday but I will probably end up settling for something cheaper anyway.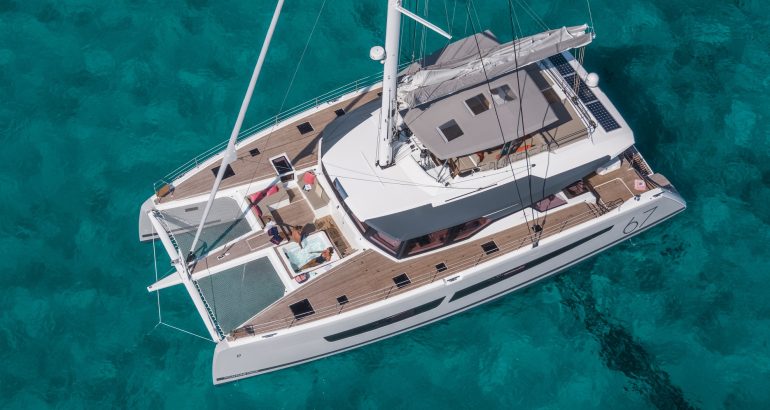 >>Also Read: Best Sailboats Under 30 Feet
Conclusion
Getting a good liveaboard sailboat will make your life out there amazing. You need to put together many considerations and settle for one that ticks the most boxes. This article has guided you on how you can make the right choice and enjoy your life on the water for a long time. But you need to ask yourself what is your budget and what comforts are you willing to give up to accommodate that budget. I really hope you can find the ideal sailboat on this list that will help you live your ideal liveaboard life.