Is It Dangerous to Sail in the Caribbean?
Generally, the Caribbean is considered as a safe place to sail. But, of course, bad things can happen as in any place in the world. Things like storms, rough weather conditions, and petty thefts are the most common dangerous situations. However, if you're aware of these hazards, plan ahead of time, and secure your outboard and dinghy to avoid petty thefts, you will be alright. As a matter of fact, the Caribbean is a wonderful destination to visit. And, you shouldn't feel scared before even setting sail. There are loads of anchorages, different cultures, and an amazing natural world to be explored. So, in this article, I'm going to examine if sailing in the Caribbean is actually dangerous. So, keep reading!
When is it Safer to Sail in the Caribbean?
The season in which you will be sailing in the Caribbean is really important before planning your voyage. It's advisable to plan your trip during months when the weather doesn't produce heavy thunderstorms and hurricanes. For instance, sailing the Caribbean in May is the safest and warmest month. Thunderstorms are uncommon during this time, while hurricanes are nearly non-existent. Therefore, the ideal month to sail across the Caribbean in May, which varies slightly from year to year. June is also one of the safest months to sail around the Caribbean. This is because hurricanes are few and thunderstorms are uncommon. In fact, the Caribbean sees the fewest summer storms in June.
The sailing season in the Caribbean runs from November to July. The majority of insurance companies require boats to leave the Caribbean by June or July. There's the possibility that sailors might find a hurricane hole. This is an area that has been designated as safe in the event of a hurricane. Or, go above or below the hurricane zone.
July is similar to June for sailing due to the lack of storms and the rarity of hurricanes. However, storms have hit the Caribbean in July, so you'll have to be extra cautious. July, on the other hand, is still a fantastic month to visit the Caribbean. During this time, tourism areas are open and flourishing, and a large number of boats are also on the water. This means it's a great opportunity to meet new people and go on a boat adventure with others. August in the Caribbean is also like July, but the month is significantly busier meteorologically, with storms being more common.
The storm and hurricane threat in the area doubles in August and weather phenomena become more unpredictable. September is the month when the Caribbean experiences the most severe weather, therefore sailors should be cautious when sailing in the area. Explosive thunderstorm formation is usual in the beginning and middle of the month, and the weather can be severe. That isn't to suggest you won't be able to sail in the Caribbean in September. Many people do, however, because of the warm temperatures. But, keep in mind that during the month, the chances of encountering dangerous storms and rapidly shifting weather conditions are substantially higher.
In the Caribbean, October, November, and December are still warm months. But, they're also a hotspot for violent thunderstorms and hurricanes. These three months, in comparison to May and June, are not the finest for sailing in the Caribbean. There is little advantage, and there is a greatly increased danger of severe weather.
Safety Issues in the Caribbean
Due to the risk of hurricanes, many individuals hesitate to sail in the Caribbean during the summer months. Others, though, believe that now is the ideal time of year to sail. For one thing, weather forecasting has progressed to the point where any major storms crossing the Atlantic from Africa are routinely predicted at least five days ahead of time. Then there's the relatively narrow storm path. In other words, the Caribbean is such a huge area, having an average of 10-15 storms passing through each year. And, only a few of them are powerful enough to hit you. So, this means that the chances of a storm hitting you are slim.
So, let's now see all possible safety issues that a sailor may encounter in the Caribbean.
Hurricane Season
The official hurricane season spans from June 1 to November 30. Despite the fact that storms are unpredictable in general, popular wisdom has it that peak season differs by region. The season is busiest in the Eastern Caribbean and along the US East Coast between mid-August and mid-September. It begins in the Western Caribbean in mid-September and lasts until early November. Keep in mind that hurricanes in the early and late seasons (June and mid-to-late November, respectively) are uncommon but not unheard of.
Hurricanes pose a far greater risk to sailors than regular Caribbean thunderstorms. They can be hundreds of miles wide and have sustained winds of more than 100 knots. Fortunately, hurricanes are well-studied and don't occur out of nowhere. Because advance warning is frequently available, it's better to listen to the weather radio. And, stay away from places where a hurricane might occur.
Storms and Thunderstorms
When a storm threatens, cruise ships can "outrun" it since storms travel at 8 to 10 knots. But ships may reach speeds of up to 22 knots and beyond. While increasingly advanced technology and mechanics can aid ships in avoiding storms, they can't always do so, and you may find yourself in rougher-than-usual waters. Storm remnants may be encountered in unexpected places, such as on north Atlantic repositioning cruises departing from Europe. And, guess what? Hurricanes die in the North Atlantic. Note that even if they are tropical storms or even minor swirlings by the time they reach far-flung destinations like Iceland, the seas can still be violent.
Thunderstorms are a constant threat in the Caribbean, particularly during the summer. It just so happens that the ideal time to sail the Caribbean is during the summer, so keep an eye out for them. Thunderstorms in the Caribbean are usually violent yet brief. Momentarily higher waves, powerful gusty winds, rain, hail, and lightning are all common features of thunderstorms. If at all possible, avoid thunderstorms (or sail around them if they're far away), yet many sailors will meet them.
Piracy
The Caribbean Safety and Security Net (CSSN) just released its annual crime report. This shows a 17 percent increase in both violent (assault, piracy, robbery) and nonviolent (burglary, theft, vandalism) offenses in Caribbean waterways. Sailors around the region reported a total of 90 occurrences in 2016. In comparison to previous years, there were more security incidents involving more weapons and violence in more locations.
More than half of all events occurred in three countries. Grenada, Saint Lucia, and Saint Vincent and the Grenadines are among them.
According to the CSSN study, the increase in Grenada is due to an increase in the number of thefts and burglaries. These happened in the south coast anchorages but did not result in violence. Note that Grenada is regarded as a visitor's paradise. Also, records show that it's one of the safest locations in the Caribbean. Given the number of boats in the Caribbean and the frequency of crimes committed against sailors, it's usually just a case of being in the wrong place at the wrong time.
Both cruising sailors and, in particular, yachting journalists, who hear some incidents and believe the Caribbean is a terrible location, significantly exaggerate the dangers. In comparison to the thousands of vessels that sail the region each year, the recorded 90 occurrences are minor. It's also worth noting that the increase is limited to a few regions. And, some islands have actually seen a decrease in maritime criminal activity. For example, there have been no reports from Venezuela, while criminal behavior against cruisers is rare in Haiti, Jamaica, and the Cayman Islands.
The boating community, on the other hand, should be watchful. And has to avoid going through areas where pirates are known to operate in the area. The CSSN also provides suggestions and advice to sailors. Simple precautions such as not leaving valuables on deck, securing all entry points, and never broadcasting on the VHF that you're leaving the boat for a day of sightseeing all help to minimize the dangers of piracy.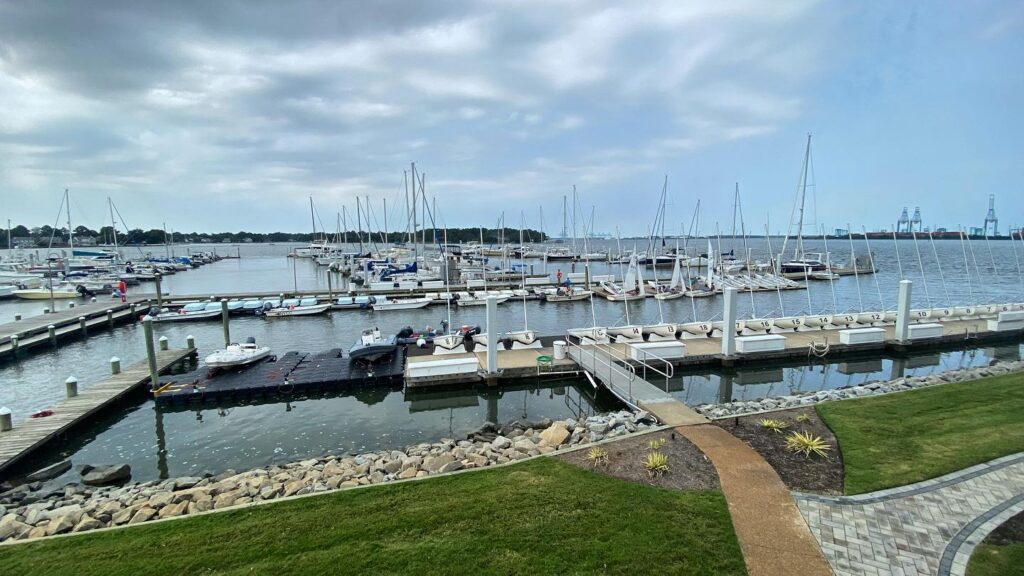 >>Also Read: Best Marinas in the US
Safety Sailing Tips in the Caribbean
Not surprisingly, the number of sailors from the United States and Europe has increased dramatically in recent years, creating a local economy reliant on delivering a variety of services to tourists. Unfortunately, this has resulted in opportunistic individuals committing crimes such as piracy and stealing. It's crucial to realize that in this day and age of the internet, even little misdemeanors attract a lot of attention via news sites, blogs, and social media. This gives the perception of increased crime, which may or may not be accurate. Indeed, a critical examination of the situation reveals that some cities in the United States are significantly more vulnerable to violent crime than most other locations in the world.
Rather than becoming anxious about the crime situation in the Caribbean, it is critical that you take precautions that will help you have a safe sailing voyage. Many sailors, for example, take basic safety procedures for granted since they believe they are in paradise. The key is to stay awake and observant, as well as to follow basic safety precautions. Adopting such basic precautions will help protect you from small crimes, which account for 90% of all crimes committed against visiting sailors.
Stay Away from Risky Anchorages
Risky anchorages provide a significant security concern, so it's better to stay away from them, especially if you're the only boat in the area. If you do decide to anchor, make sure you adhere to all safety precautions, including keeping a watch. If there are other boats in the harbor, it's a good idea to introduce yourself, using a common VHF frequency that everyone can listen to. During the watch, periodically shine a spotlight on other vessels to check for odd activity.
VHF Precautions
When you're at the anchor, be careful of the information you're broadcasting. These can be anything such as leaving the boat for a day in the village. Or for whatever plans you have ashore. Keep in mind that if you need to make a reservation at a restaurant or order a taxi, you should use your own name rather than the name of your boat.
Bear in mind that you should program your VHF radios with the distress frequencies that the US Coast Guard and other authorities have recommended for your sailing route. Until you receive a response, state clearly and exactly that you are in danger, including your boat's name and location. If DSC is enabled, your distress signal will go further, increasing the likelihood of a faster response.
Follow Safety Protocols
Ensure that all access points on the boat are secured with high-quality locks. Each time you leave the boat, double-check to make sure that you securely lock all hatches and ports. In addition, make sure there are no costly objects in the dinghy behind your boat, such as gas cans and snorkeling equipment. Also, in the cockpit or on the deck, valuable objects must not be left unattended.
Safety Equipment
It's critical to have all of the appropriate safety equipment onboard at all times. This is true not only for the Caribbean and long-distance ocean voyages but in general. Lifejackets, visual and audible signaling systems, throwable flotation devices, fire extinguishers, flares, and a First-Aid Kit are all included in the safety equipment. Storm sails, a liferaft, an EPIRB, an AIS, a VHF radio, a flashlight, and a reputable weather forecast app are also recommended. Safety equipment such as eyewear, sailing gloves, and waterproof/SPF-rated clothing are also important items.
Secure your Belongings
To begin, it is advisable that you do not bring a lot of precious stuff with you on your sailing voyage. In any case, sailing involves simplicity and detachment from everyday routine life. But, in case you have precious objects onboard make sure you hide them in multiple, unpredictably located spots. Keep an electronic copy of all critical documents, such as passports and boat documents. In addition the contents of all wallets, such as credit cards (both sides), licenses, and an up-to-date equipment list with serial numbers, where it may be accessible if someone steals your computer. Separate and hide valuables, such as passports and boat paperwork, in a variety of unpredictable spots onboard. If at all possible, conceal a spare GPS and handheld VHF radio, as well as a smartphone, tablet, or laptop containing all of your contacts and other vital information.
Stay Cautious Day and Night
Consider traveling at night, as all incidents of boardings and attempted boardings have occurred during the day. This, of course, applies to dangerous areas in the Caribbean such as Trinidad and Grenada. Some state that you should travel without lights, but this comes with its own set of risks. Because the pirogues that pirates use are usually wooden boats that do not always provide accurate radar returns, your radar will be of little help in detecting them. So, don't stop or slow down for any vessel that isn't using proper radio protocol and doesn't have authorized law enforcement lights.
Always Have a Backup Plan
Always have a response plan ahead of time, with the goal of scaring off intruders. And, this is certainly appropriate for boats at anchor as well as for boats being underway. This is one of the must preparations a sailor has to do. Consider evasive maneuvers, a fully equipped first-aid kit, a response to a fire aboard, as well as where the crew will take refuge. Moreover, whether or not additional resistance to boarding can be made with flare guns, sprays, etc. Also, how to initiate a distress call, the use of lights and flares, and communication with other vessels or legal maritime authorities.
>>Also Read: Sailing From Puerto Rico to St. Thomas in the Caribbean
Final Preparations
When getting your boat ready to sail, the first thing you should do is inspect it and make any necessary repairs. Consider the minimum essentials of sailing, then think about the various dangers you'll face in the area. Because the Caribbean is hot and tropical, you should bring appropriate clothing and supplies. Wool socks, for example, are generally not as vital as wet weather gear because you're much more likely to get wet than to freeze in sub-zero conditions. Examine your rigging, sails, and the bottom of your boat, which should be scraped and painted with red lead or another anti-growth paint. In the Caribbean, barnacles and marine life grow quickly, so it's critical to have the bottom scraped and prepared for the environment.
Also, before leaving, be sure to flush any water systems. Your exhaust and drain systems could host harmful invasive species from your home seas, and the Caribbean is home to fragile marine habitats. Finally, consider going on a test voyage with your sailboat, ideally in tougher circumstances, to refresh your abilities and put your rigging to the test. A shakedown voyage will assist you to uncover any hidden problems that you might have missed otherwise.
Finally, verify the weather forecast both before and during your voyage. Because of the region's tropical climate, weather can turn on a dime, causing challenges for you and your vessel. And, you will have a safe and enjoyable experience sailing throughout the Caribbean if you arrange your voyage around broader forecasts and stay tuned throughout. Weather updates come from satellites on a regular basis, which is a good way to enhance the internet and VHF radio. Satellite weather forecasts are especially helpful in locations where local weather forecasts are inaccurate. A wind vane and a barometer are other useful tools to have.
Is it Safe to Sail in The Caribbean? – The Bottom Line
So, is it dangerous to sail in the Caribbean? Well, if you follow safety precautions and stay away from risk areas as well as keeping an eye on the weather forecast you'll be totally safe. Keep in mind that the vessel's seaworthiness, the skipper's experience at sea, and their skill and capacity to address issues as they emerge all contribute to the danger when sailing. Furthermore, the sailor's capacity to comprehend the sea and sky, as well as weather forecasts. All of this will enable you to stay safe from potentially hazardous weather and sea conditions. It's up to you as a navigator to comprehend them, deal with them, and act on time.
I wish you all safe & pleasant voyages in the Caribbean!