10 Best Catamarans Under 40 Feet
One of the best ways to unwind and relax is cruising on the sea and enjoying nature's beauty on a boat. And when it comes to your relaxation and enjoyment, why not go for a boat that is guaranteed to deliver you maximum comfort like the catamaran?
For new yacht/boat enthusiasts, the term catamaran might seem foreign to you. A catamaran is a multi-hulled vessel with two hulls that are both of equal size. It is a geometrically balanced vessel, getting its stability from its wide beam, unlike a monohull with a ballasted keel. Now you might seriously be wondering, why take a cat instead of a monohull? Well, there are quite a few reasons but let us focus on the important ones.
Benefits Of A Great Catamaran Under 40 Feet
Sailing Comfort
Something very glaring about sailing a cat is the absence of heeling, which a monohull has. Even when powered, a cat will hardly heel more than 5-10 degrees before its time to reef. This makes it far more relaxing and comfortable under sail.  
Speed 
A bluewater cruising catamaran is faster than a cruising monohull of the same length. They usually reach near racing monohull speeds while still maintaining the comforts that a cat provides.
Nevertheless, note that cats are sensitive to load; a loaded cat will have its performance affected.
Living Spaces and Liveaboard Comfort
The one thing a modern cat does not lack is space. A typical cat has the space equivalent to a monohull 10+ feet larger. When you factor in the cockpit space, a flybridge, and the deck space, it becomes a whole new ball game. Not only do you get a tremendous amount of space, but most of that space is also luxurious and comfortable, whether at anchor or underway.
Here Are Some Of The Best Catamarans Under 40 Feet
Fountaine Pajot Lucia 40
Price: From 350k to 450k For Sale On The Used Market
The Fountaine Pajot released the new Lucia 40 to the Miami show in February 2016, and boat enthusiasts received it with a lot of enthusiasm.
The new Lucia 40 was designed by Oliver Racoupeau, and it is a promising take on the future of modern designs. The hulls are moderately narrow but wide enough for the double berths in both cabins to fit in. The topsides are high and have big rectangular windows that allow natural light into the hulls and give a marvelous view from the cabins.  
The boat has a lot of space for a 40-footer which has been put to good use to provide a lot of options for a comfortable lifestyle on board. A displacement of 19,500 pounds and an Alpi wood finishing puts the cat on the lighter end of the cruising spectrum. 
All in all, the Lucia 40 is a very wonderful cruiser catamaran that is not lacking in looks, motor efficiency, or living space. She will never disappoint in giving you that enjoyable cruise that you deserve.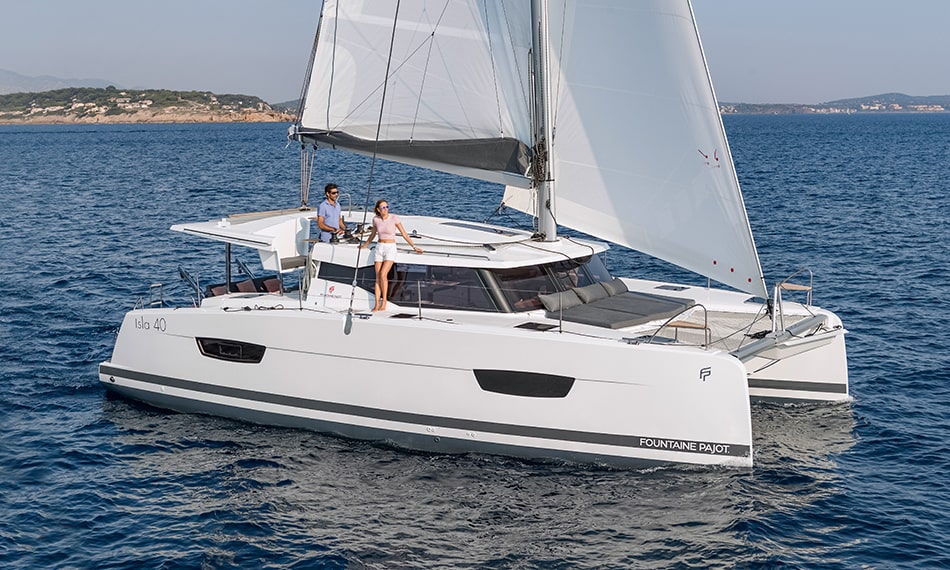 >>Also Read: 10 Best Catamaran Brands
Fountaine Pajot Lucia 40 Specs
Overall length: 38.4 ft
Waterline length: 37.9 ft
Beam: 21.7 ft
Draft: 3.9 ft
Air draft: 63.3 ft
Overall height: 14 ft
Light displacement:21,000 pounds
Load displacement: 27,000 pounds
Material: Polyester Fiberglass
Lagoon 40
Price: From 350k to 600k For Sale On The Used Market
The Lagoon 40 has come to replace her previous 39 and 400 models. Designed by VPLP, the new cat adopted the style of her larger predecessors, including the angular transoms, lengthier rectangular hull ports to let natural light stream in below. The design also includes a coach roof that shapes into an upward angled composite hard drop, giving her a more "aggressive" look. Special attention was placed into keeping the weight low.
The interior has not gone through any overly dramatic change, but the tweaks have been given an extra feel of luxury. The symbolic white fiberglass or gray cabinetry of the 39 has been discarded for richer shades of dark brown Alpi wood and plenty of leather accents. The lagoon 40 has 3-4 cabins readily available for use.
The Lagoon 40 is truly a beauty among beauties, a modern marvel that does not go for less when it comes to luxury.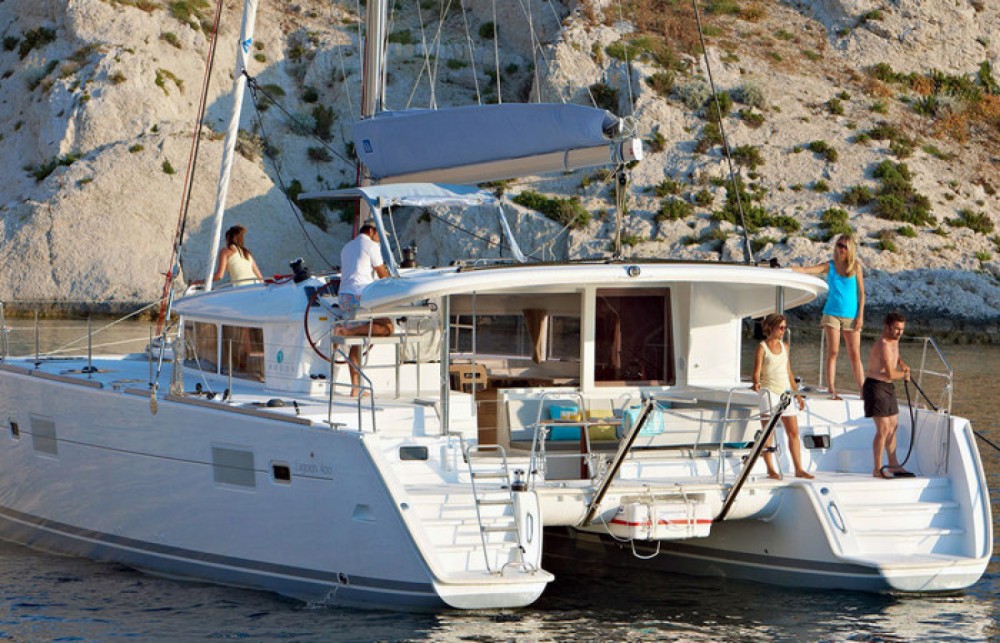 >>Also Read: 10 Best Catamarans Under 200k
Lagoon 40 Specs
Length overall: 38.5ft
Beam: 22.2ft
Draft: 4.5ft
Mast clearance: 60.5ft
Light displacement (EEC): 10,885t
Sail area: 875 sq ft
Square top mainsail: 511 sq ft
Self-tacking jib: 364 sq ft
Lagoon 39
Price: From 250k to 400k For Sale On The Used Market
Renowned naval architects Marc van Peteghem and Vincent Lauriot Prevost of VPLP design have gone above and beyond with this modern marvel. While the defining features of the previous lagoon remained, very significant changes were made to the rigs and hulls to boost sailing performance. Most importantly, the mast and the center of buoyancy of the hulls are farther apart.
The boat has infusion molding, which serves for increased weight saving (a factor very important for a catamaran), an optimal structure, and better protection for the environment and shipbuilders.
The woodwork for the interior of the 39 was done with Alpi reconstructed wood, coupled with vertical glazing for protection against the sun.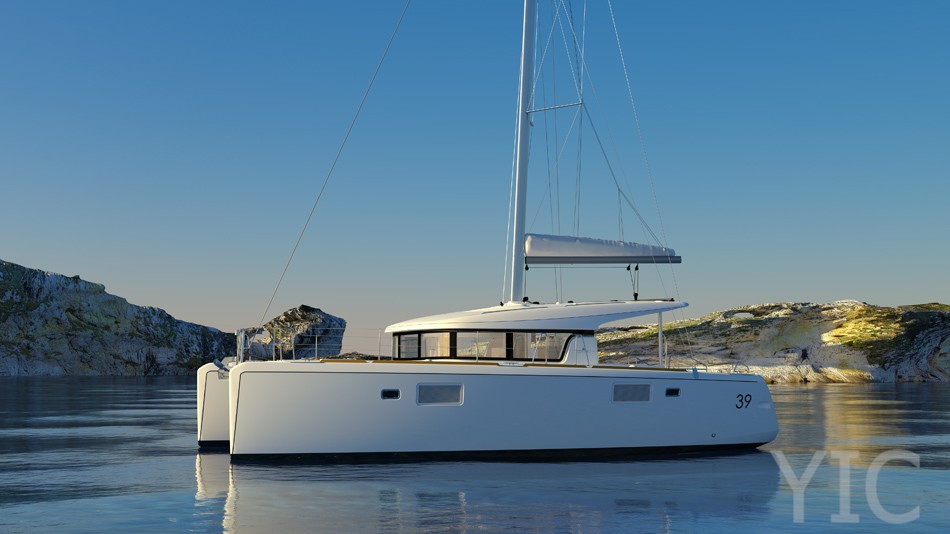 Lagoon 39 Specs
Length Overall: 38.3ft
Beam: 22.3ft
Draft Minimum: 4.0ft
Water Capacity: 66.0 imperial gallons
Fuel Capacity: 88.0 imperial gallons
Cabins: 4
Berths: 8/10
Day maximum passengers: 10
Bathrooms: 2
WC: 2
Number of engines: 2
Power: 40 hp
Lagoon 380
Price: From 150k to 450k For Sale On The Used Market
The Lagoon 380 is the most sought-after cat in the world, and it is not hard to see why. Line her up against her follow cats like the lagoon 46 or 42, and she still tops them.
She is a certified ocean crosser; quite sturdy, safe, and economical. She also has an acceptable level of performance and is pretty spacious for a cat of her size. What more could you ask for? She definitely one of the best catamarans under 40 feet and a dreamboat for an enjoyable cruise.
The 380 is not the lightest boat for her size. Her hulls are made from solid fiberglass below the waterline and cored with a mix of foam and balsa above the waterline.
The design used for the interior is top-notch, and it makes use of the available space. The boat also possesses vertical windows that help to efficiently maximize space and minimize the heat from the sun. In addition, there are dual sliding doors that open up the saloon into the cockpit. The Lagoon 380 is truly a modern masterpiece.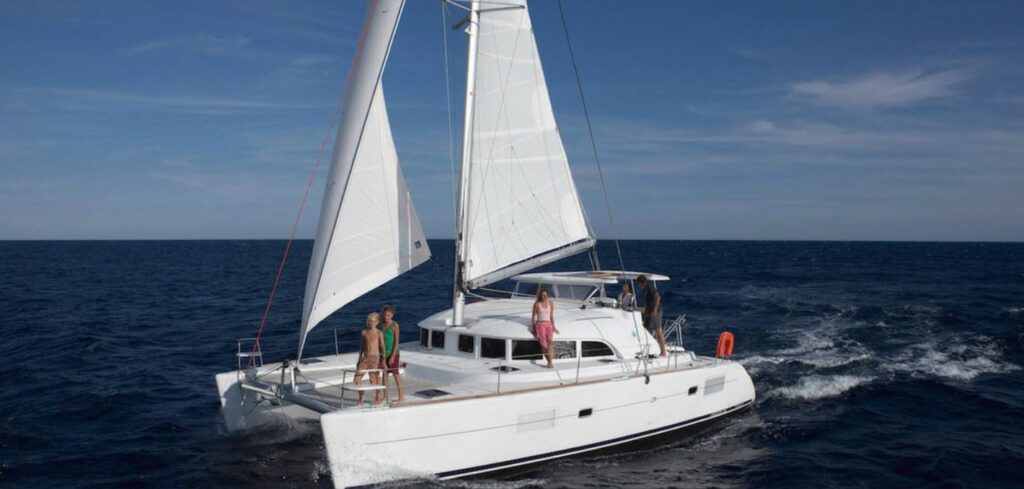 Lagoon 380 Specs
Length Overall: 37.7 ft
Beam: 21.3ft
Draft Minimum: 3.8ft
Water Capacity: 88 – 132 imperial gallons
Fuel Capacity: 44 imperial gallons
Cabins: 4
Berths: 8/10
Day maximum passengers: 10
Power: 30 hp
Nautitech 40
Price: From 250k to 600k For Sale On The Used Market
Looking for a spectacular sailing sensation? Are you planning on spending a wonderful and relaxing trip with family and friends on the sea? If yes, then look no further; the Nautitech 40 is the perfect cat for you.
The open design gives you huge living space for a forty-foot cat, the most in her class. She is pretty light for a production cruising cat and accelerates very quickly compared to other brands. The Nautitech is the perfect combination of speed and comfort.
Different density foam cores are used, depending on the location and loading in different parts of the boat. The biggest difference between the Nautitech 40 and much of the competition is the use of foam composite in contrast to the balsa cores of the competition. This allows a significant amount of weight to be saved.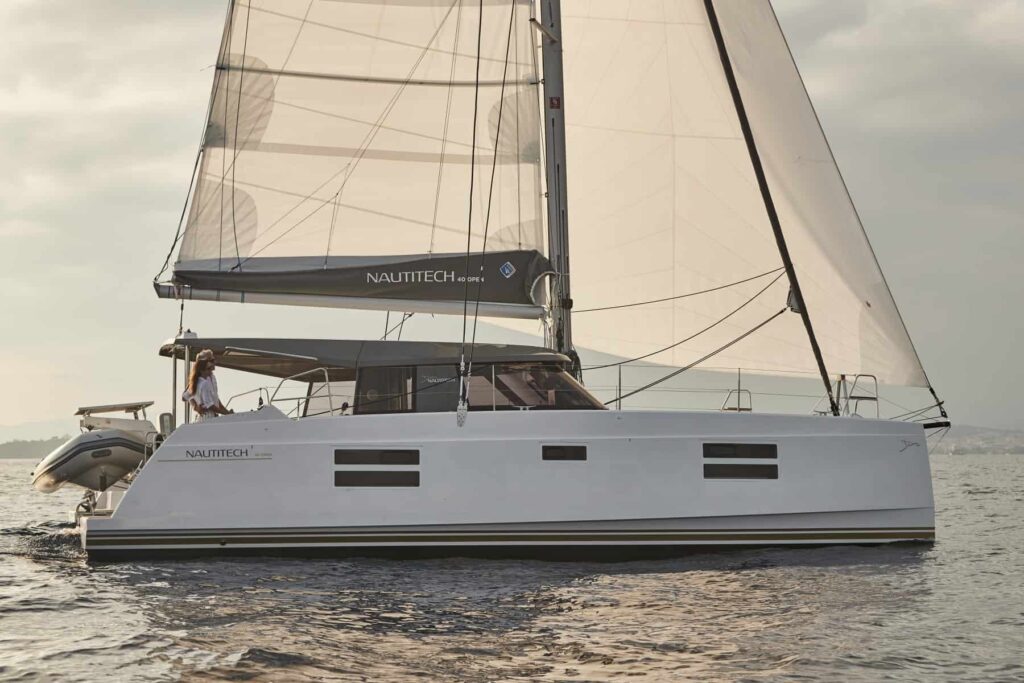 Nautitech 40 Specs
Length Overall: 39.4ft
Beam: 22.7ft
Draft Minimum: 4.43ft
Water Capacity: 105.6ft
Fuel Capacity: 94.6ft
Cabins: 4
Berths: 8/10
Day maximum passengers: 10
Bathrooms: 2
WC: 2
Number of engines: 2
Power: 30 hp
Bali 4.0
Price: From 350k to 450k For Sale On The Used Market
If you are not an ardent yacht lover yet, then the Bali 4.0 should easily change your mind. This modern marvel towers above all others in the cat crowd, boasting a state-of-the-art design and revolutionary features. Her oversized and wholly open spaces, plus its competitive price, makes it a superb choice for you. 
The interior design of the boat stems from the famous Italian composite material, Alpi, which has a mixture of thin African woods laminated with a gorgeous outer surface. The addition of other complimentary fabrics sums up a tasteful modern décor.
You cannot be faulted for calling her a floating apartment, so if you're looking for something large but lightweight with a feel of "home" offshore, the Bali 4.0 has it all.

Bali 4.0 Specs
Length Overall: 39.1ft 
Beam: 22.0ft
Draft Minimum: 3.7ft
Water Capacity: 176 imperial gallons
Fuel Capacity: 88.0 imperial gallons
Cabins: 4 
Berths: 8/10
Day maximum passengers: 10
Number of engines: 2
Power: 20 hp
Seawind 1190
Price: From 400k to 550k For Sale On The Used Market
Seawind built upon the global success garnered from the 1160 to create a swifter model with enhanced performance. With the addition of retractable rudders, carbon fiber throughout, and a wardrobe of performance sails, she is truly a top-class cat.
The 1190 is intended to be a sportier version of its comfortably cruising sibling. It has various performance-enhancing features like the carbon-reinforced beam for reduced weight and the carbon bowsprit for stiffer/lighter construction.
Similar to her sister, the 1190 has trifold doors opening the saloon to the cockpit with the forward opening Saloon window, which allows the cat to have maximum airflow.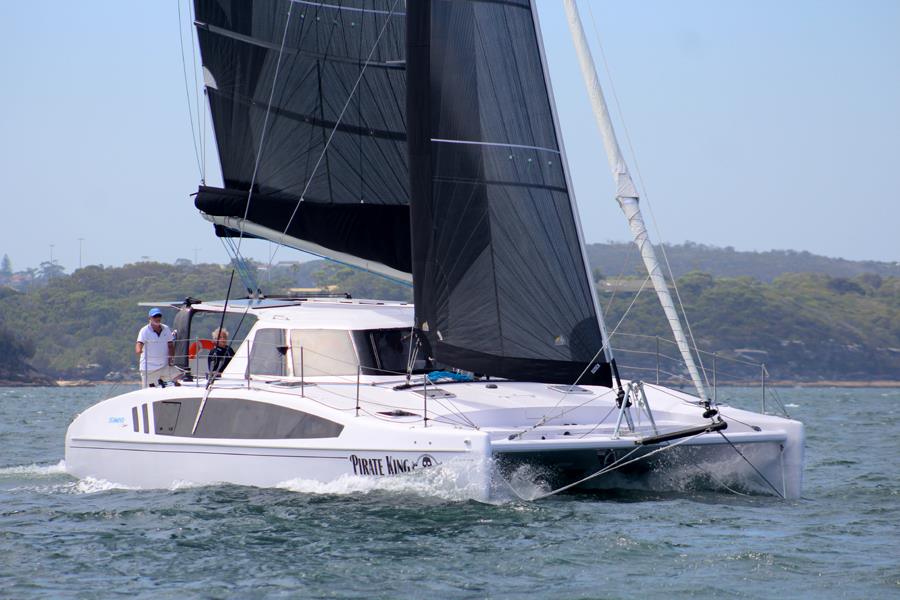 Seawind 1190 Specs
Length Overall: 38.1ft
Beam: 21.3ft
Draft Minimum: 3.6ft
Water Capacity: 154 imperial gallons
Fuel Capacity: 79.2 imperial gallons
Cabins: 3
Berths: 8/10
Day maximum passengers: 10
Bathrooms: 1
Beneteau Excess 12
Price: New From 350k (Sailaway)
Excess is a new multihull line designed by Groupe Beneteau. It was designed to be an open cat that connects the crew more directly with their sailing experience.
The French naval architect focused on streamlining the interior wood structure and, in doing so, got rid of a lot of cabinetry hardware. The result was a smoother and lighter interior that still satisfies all your needs.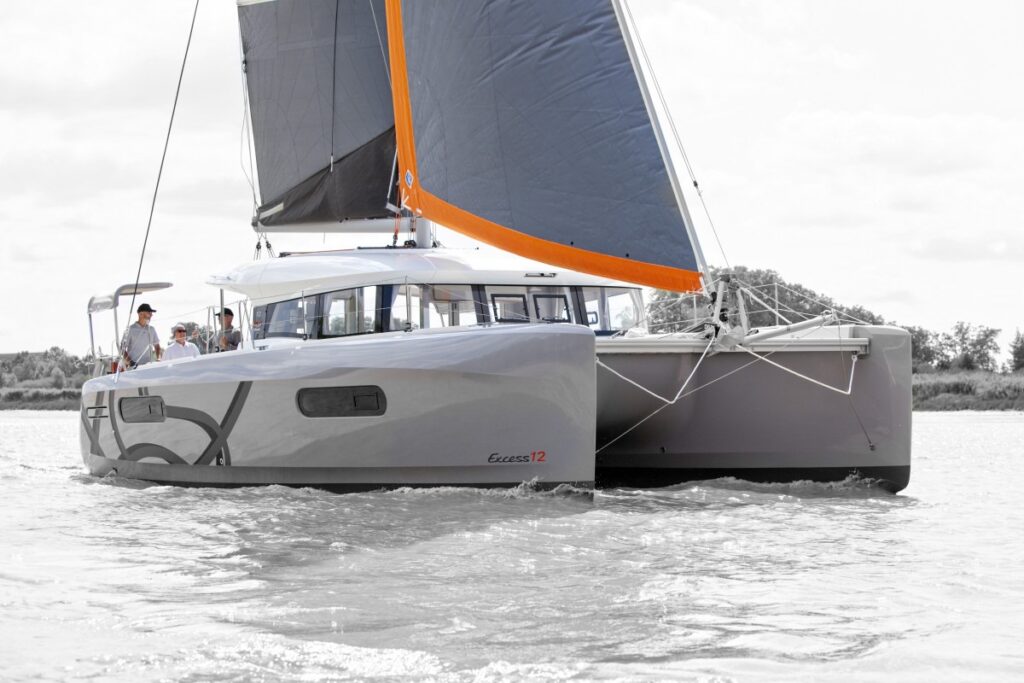 Beneteau Excess 12 Specs
Length Overall: 38.5ft
Beam: 22.0ft
Draft Minimum: 4.43ft
Water Capacity: 66 imperial gallons
Fuel Capacity: 96.8 imperial gallons
Cabins: 4
Berths: 8
Day maximum passengers: 8
Number of engines: 2
Power: 45 hp
Prout Escale 39 – Best Budget Option
Price: Around 150k For Sale On The Used Market
The Prout Escale 39 was built in Essex, United Kingdom, in 1991. This cruising beauty was created by two brothers, Francis and Roland Prout. 
The Escale, compared to previous builds, has a considerably larger beam; this, in turn, resulted in her having a very spacious interior. If you prioritize comfort over speed, then the Escale 39 is the perfect boat for you. She has ideal accommodations below deck, the kind of space you will not find in a monohull. Some parts of her interior are dated, and this reflects on her second-hand prices.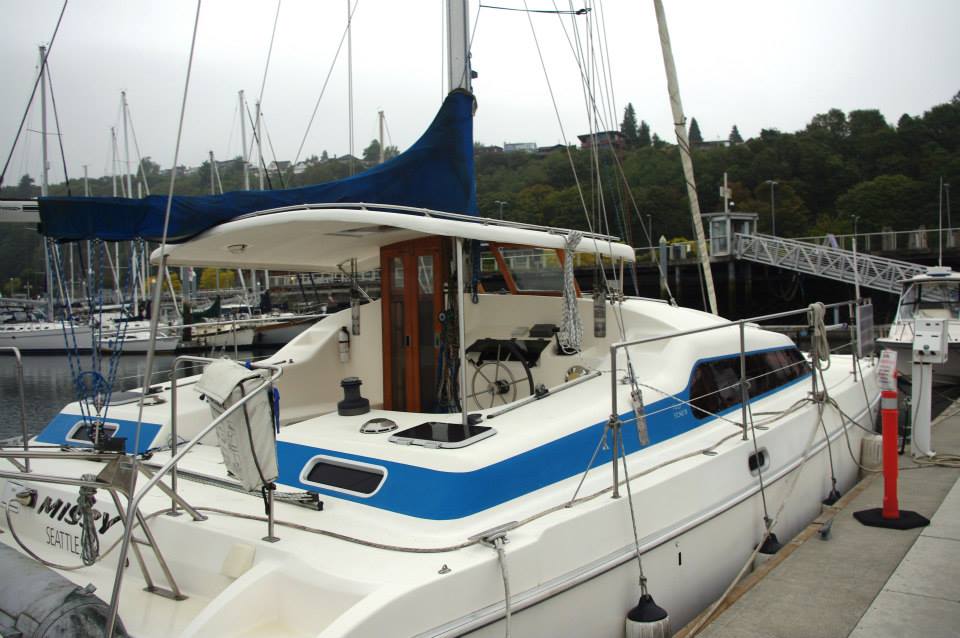 Prout Escale 39 Specs
Overall length: 39″0″
Waterline length: 35″0″
Beam: 18″3″
Hull beam (max.): 4″3″
Draft: 3″3″
Max. headroom: 6″10″
Mainsail: 243 sq. ft.
Genoa: 475 sq. ft
Staysail: 125 sq. ft.
Displacement: 15,679 lbs.
Freshwater tank: 154 gals.
Fuel: 35 gals.
Gemini Legacy 35
Price: From 200k to 300k For Sale On The Used Market
The Gemini cat has always been one of the silent achievers in American boatbuilding. Once again, they have delivered greatness with the Legacy 35.
She still has roughly the same looks as her predecessors with the familiar hardtop pilothouse and elongated upswept side ports. Her cockpit, however, has been rebranded to include an optional aft bench for stowage.
The interior layout has seen changes, but this has improved the comfort she provides in a lot of ways. The saloon has been designed to take a U-shape on the centerline in the raised pilothouse.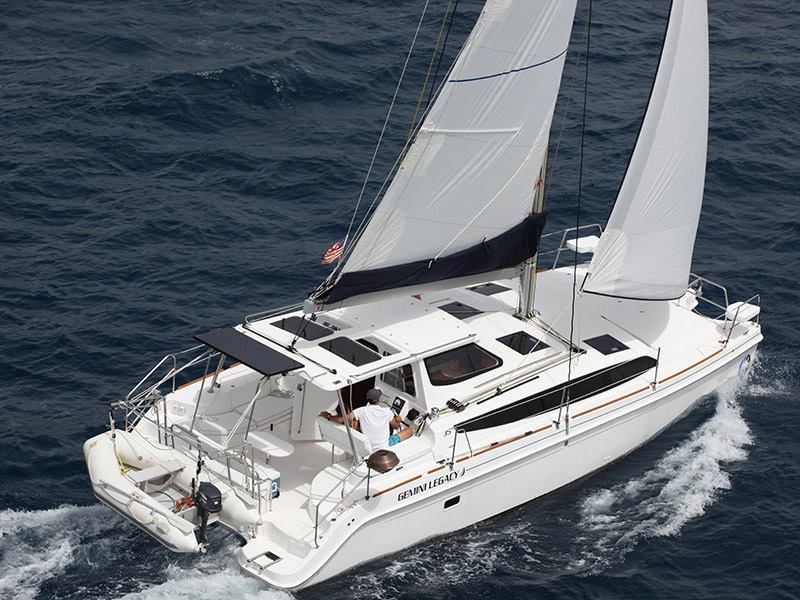 Gemini Legacy 35 Specs
Length Overall: 34.51
Fuel Capacity: 35.93 US gallons. 
Cabins: 2
Berths: 4/6
Day maximum passengers: 6
Bathrooms: 2
Number of engines: 2
Power: 15 hp
Final Thoughts
In conclusion, while all the boats mentioned above may vary and appeal to different tastes and preferences, it is guaranteed that renting or buying any of the above catamarans is sure to offer a great amount of onboard luxury and satisfy any need and aesthetic taste.