10 Best Catamarans Under 50 Feet
A catamaran is simply a water vessel or any sea vessel propelled by air and composed of two hulls. These hulls are kept apart with space and the middle, but they are held together by a frame situated above them. But you probably already knew that. You are here probably because you are looking for an ultra-luxurious catamaran that you can use either as a summer vacation home or as a liveaboard. However, be prepared; the best catamarans between 40 and 50 feet featured here are pretty expensive. But you were probably expecting that as well. 
Here Are The Best Catamarans Under 50 Feet
Leopard 50
Price: Around $1 Million USD on the Used Market
The Leopard 50 comes as a replacement for the Leopard 48. Let's assume we dropped from a helicopter onto one of these bad girls floating out on the Maldives, and we get to see the exterior outlook first.
Its outdoor is equipped like never before. With the flybridge space comes a roomy lounge, a table, and a sunbed. As an option, exterior speakers and shade awning can be made available upon order. 
It is easy to get to the flybridge from the side deck using the floating stairs that were masterfully fitted in. Like other Leopard Catamarans, this is no different in that the flybridge has active contact with the helm station. The roomy lounge also serves to protect the helm station at the back of the bulkhead. It also enjoys a clear path of sight and movement into the aft cockpit. Movement of passengers is allowed on the flybridge, without them ever having to worry about meddling with the boom, unlike many other sailboats that are often compared to the Catamaran Leopard 50. 
Although one can decide to customize the exterior design of this beauty, it will prove extravagant as it is already made fabulous to sate a wide range of choices. The hull is now restructured to have a more positive switched-up outlook.
A little is said about the interior modifications. Still, it is enough said to have 4 – 5 independent cabins, a utility room for liveaboard, and an options list that looks like it will not end. The heads are around 4 – 6, and the berths can be from half a dozen to a dozen. There are up to 6 and no less than 4 showers on the Catamaran 50.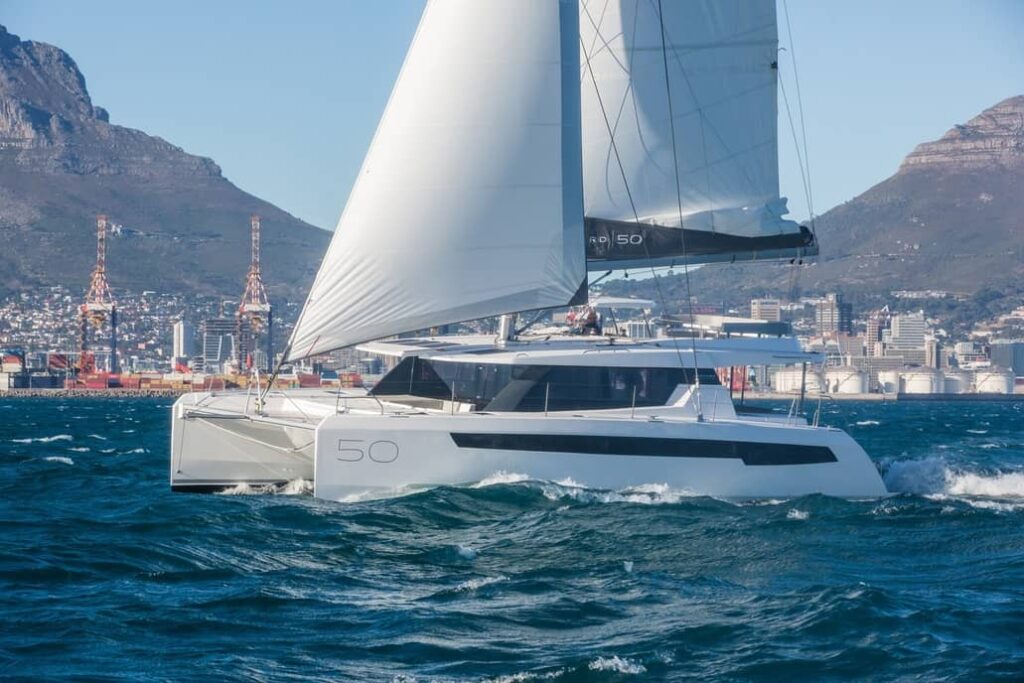 Specifications of the Leopard 50
Size Measurements
Length Overall: 50 feet and 6 inches.
Waterline Length: 48 feet and 11 inches.
Beam Measurement: 26 feet and 5inches.
Draft: 5 feet and 3 inches.
Height of Mast: 77 feet and 2 inches.
Bridgedeck Clearance: 3 feet and 3 inches.
Displacement of the Leopard 50: is 45415lbs.
Its Load Carrying Capacity Limit: is 11905 lbs.
Holding Tank Capacity: is 45 gallons.
Fuel Tank Capacity: 243 gallons
Mechanical Specs
Engine: Yanmar engines Rated a 2 × 57hp power this bad girl, and it runs on diesel. It could also be upgraded to 2 × 80hp Yanmar engines, which will see you easily pushing 9 knots on the water at about 2,500rpm. You can also choose to kill one of the engines and go at a comfortable 6 knots (not in a hurry but not lazy either) for fuel consumption to decrease.
Propeller Dimensions: 3 blades: 18 inches × 14 inches.
Number of Engine Cylinders: 4
Leopard 50 Pros
It has a huge living space, a bungalow at sea.
Incredibly seaworthy
It can sail well upwind.
Leopard 50 Cons
They are not sleek therefore indubitably slow sailing
With a lighter wind, the speed drop is significant.
A high boom can make finding your way to the mainsail a bit dicey in a seaway.
Lagoon 42
Price: Around $620,000 – $850,000 On The Used Market
The Lagoon has its Architecture designed by the dedicated Van Peteghem-Lauriot Prévost. It seems very similar to the Lagoon 52, but the two main features that can distinguish it from the other contemporary Lagoons are the
Relocated Mast, which was moved for the purpose of balancing the gross weight and minimizing chances of pitching.
A beautiful silhouette that gives it an exquisite look thanks to the exterior styling of Patrick Le Quément. These designers saw to the Lagoon 42's compatibility with short-handed sailing and couples because of its smaller boom and self-tacking boom. 
There are very room lounges everywhere, from the cockpit to the saloon. The wide flat decks have flushing opening hatches that serve as great ventilators. It also has a very easy access to the boom and with very sturdy and safe stairs that lead both to the upper deck and helm station.
The helm station atop the roof of the coach bulkhead makes for a direct communication and mobility between the cockpit and saloon. The interior finishing is by Nauta Design and consists of up to 4 cabins, 3 at least. Each aft cabin is furnished with an island bed, while the forward cabins have beds that are accessed primarily from the side.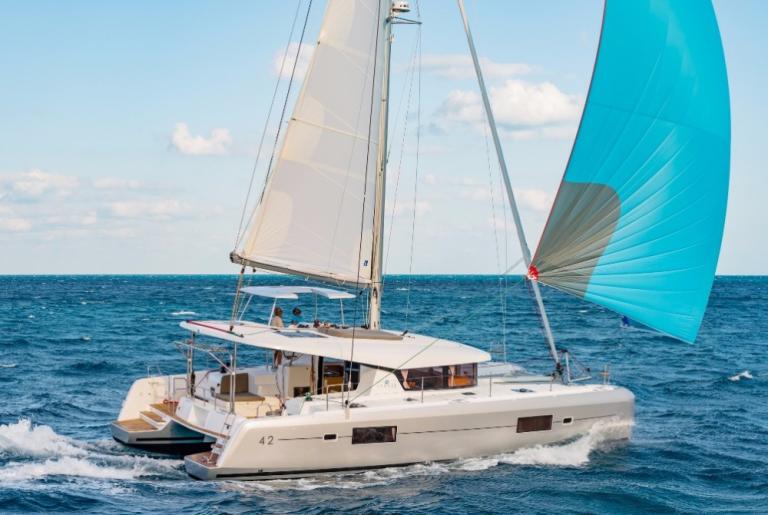 Lagoon 42 Specs
Size Measurements
Length Over All: 42 feet
Beam: 25 feet 3 inches
Draft: 4 feet 1 inch
Mast clearance: 67 feet 9 inches
Mechanical Specifications are:
Engine (standard): The Lagoon 42 is driven by 2 x 45 HP YANMAR 4JH45s.
Its Fuel capacity: 79 gallons (+79 gallons in option) of premium diesel.
Other Specifics include:
Light displacement: 26,460 pounds
Sail area: 968 feet²
Self-tacking genoa: 395.5 feet².
Lagoon 42 Pros
The deck layout is truly genius.
A self-tacking Genoa which helps short-hand sailing
It sports only one single level from the aft platform to the saloon: a structural "revolution".
Lagoon 42 Cons
It may not be readily affordable.
Lagoon 46
Price: Around 500k On The Used Market.
The Lagoon 46 has an increased volume and a relatively better performance than the 450. Looking at the hull alone tells the story of how VPLP saw that this dream could be achieved. The waterlines are narrowed down and flared out inboard, and this notably increases the volume of the inside, especially the cabins in the forward area. This enables for the same size of beds to exist front and abaft.
Also added to the new 46 is a state-of-the-art cradle-like davit system and a relatively less weighty Bimini roof. The flybridge has also an area large enough for couples sunbathing which has direct access to the two side decks. There is also increase in the reserved storage space.
The mast is now situated at the aft position of the top of the boat, a self-tacking genoa becomes a necessity, and thus this is made a basic feature. Nauta Design sees to it that the innards of the Catamaran Lagoon 46 does not look anything short of blessed, with most of the finishes either light wood oaks or Alpi and many rounded edges.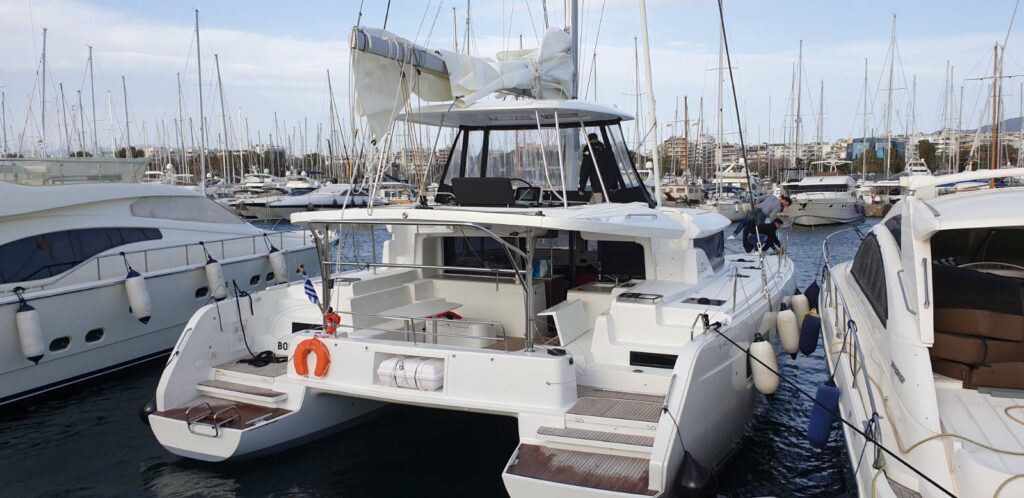 Lagoon 46 Specs
Size Measurements:
Length Overall: 45 feet 11 inches
Beam: 25 feet 10 inches
Draught: 4 feet 3 inches
Displacement: 33,603 pounds
Sail area: 1,323 square feet.
Self-tacking genoa: 500 square feet.
Square top mainsail (optional.): 866 square feet.
Mechanical Specifications include:
Engine (standard): 2 x 45 cv CR to 2 x 57 cv CR.
Fuel Limit: 79 US Gallon
Fresh Water Capacity: 79 US Gallon
Other Specifics include:
Berths : are up to six-twelve.
Lagoon 46 Pros
The innovation in the double-side accessible beds in a cabins is surely a huge bonus.
For more comfortable maneuvering, this two engined catamaran is worth having.
Lagoon 46 Cons
It goes without saying that there are some places your Catamaran might not safely pass in the waters because of its size.
Bali 4.1
Price: Around 400k On The Used Market
We are at the Bali 4.1 as we arrive at the saloon, which couldn't be larger and gated by a glossed-over pivot door. These and some others are the modifications that made the Bali 4.0 a huge success. They continue to create a sensation in the Catamaran world with the Bali 4.1. As it is a boat known for its seaworthiness, its component foredeck space provides rigidity and serves to protect from spray. It sports a very large space that can accommodate people for sunbathing. Its fore cockpit is large enough to fit in a small crew comfortably without their bumping each other's heads. Reviewers have described the flying bridge as a glad-handering platform, while the helming station is somewhat elevated.
For the sake of unhindered natural ventilation, its windows open either as the gliding or retracting kind. In other news, new features have been added to the Bali 4.1, like the large side lockers, the new bench seats in the back cockpit, and a platform that connects the two hulls, which is situated in the aft position. The design mastermind of the Bali 4.1 is the LASTA Design Studio, and the Naval architect is Xavier Faÿ.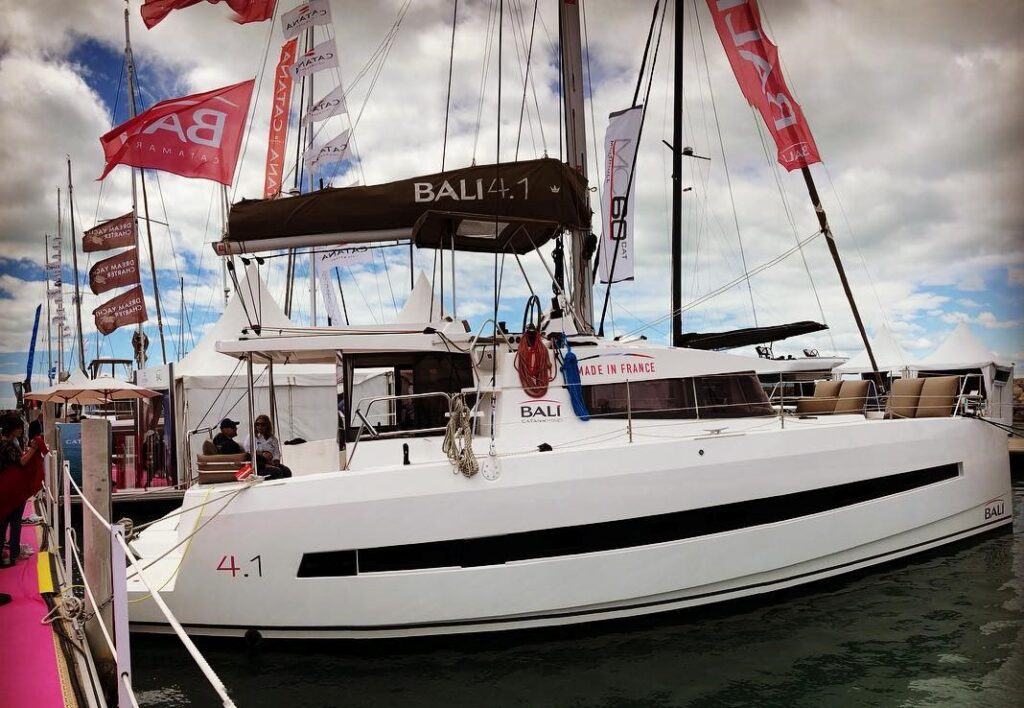 Bali 4.1 Specs
Dimensions
Length Overall: 39 feet 8 inches
Beam: 22 feet 1 inch
Waterline length: 38 feet 1 inch
Draft: 3 feet 7 inches
Maximum upwind sail area: 1135 square feet
Mainsail: 516 square feet
Jib: 355 square feet
Mechanical Specifications include:-
Fuel Capacity Limit: 105 gallons
Engines: 2 X 20 HP and can be upgraded to the 2 X 40 HP for making those extra knots count while at sea.
Other Specifics include:
Displacement: 9.9 US ton
Maximum displacement: 13.0 US ton
Freshwater Capacity: 211 gallons
Bali 4.1 Pros
It promises more stability and less floating.
There's obviously more space on the Bali than on many monohulls.
Bali 4.1 Cons
It is very expensive to charter a Bali 4.1, sometimes 200% more than yachts of the same length.
It is both expensive and hard to find a place in marinas.
Bavaria Nautitech 46
Price: Between $500k and 800k USD On The Used Market
The Bavaria Nautitech 46 promises nothing less than elegance, comfort, and pleasure. One of the worthy of note things about this Catamaran is that it comes in two models: The Fly and the Open. They're basically the same thing but for cabin variations. The Bavaria Nautitech 46 Fly is the flybridge variant of The Bavaria Nautitech 46. The flybridge provides a roomy space for the captain and passengers and an excellent view of all directions. The Bavaria Nautitech 46 architecture was handled by Marc Lombard, and Roseo Design saw to its finish.
You can opt for this 46 Open as a 3-cabin version if you'd prefer an owner's suite or as a 4-cabin version that accommodates 8 people, especially if you intend to rent.
There is an area in the kitchen that was specially carved out as a chart table space where you can comfortably organize your navigation without losing coordination. A very spacious, well-designed saloon that provides passengers with an all-round view of the delectable sea while reclining on the comfiest seating, possibly sharing the experience with a loved one.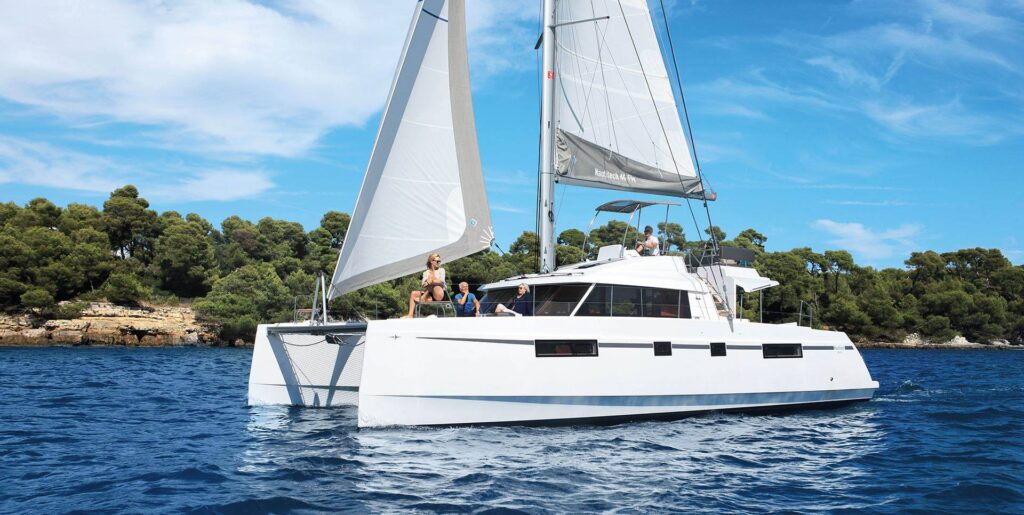 Bavaria Nautitech 46 Specifications
Size Measurements:
Length Overall: 45 feet 3 inches
Length, Waterline: 45 feet
Beam overall: 24 feet 9 inches
Draft: 4 feet 9 inches
Full mainsail: 818 square feet
Self-tacking jib: 409 square feet
Mast Altitude Above Water Line: 75 feet 2 inches
Unloaded weight (approximately is): 23,814 lbs
Mechanical Specifics Include:
Engine runs on diesel, and it is also sail-driven.
Engine power: 2 x 40 Hp Volvo Penta to run the boat at 8.1 knots to 9 knots at full throttle.
Fuel tank: 2 x 79 gal
Water tank: 2 x 79 gal
Bavaria Nautitech 46 Pros
The number of rails and clip-on points assures safety and allows for easy movement around the cat 
Engine bays are spacious enough to allow direct access to the engines
Quality interior design
Bavaria Nautitech 46 Cons
The aft helm have reduced visibility, especially towards the opposite bow.
Due to the slender shape of the hills, there seems to be a decrease in the living space below.
Fountaine Pajot 45
Price: Between $500k and 900k USD On The Used Market
Fountaine Pajot 45 was debuted at the 2019 Cannes Yachting Festival and popularly known as the Elba 45; its bold and modern style was indeed made for comfort, relaxation, and… you guessed right, cruising. Forged with inverted bows and energy emitting lines, which makes for large interior spaces. The helm station was also remodeled to increase the handling experience. Indeed, the Fountaine Pajot 45 was primarily crafted for comfort. The fact that this point is being reiterated says a lot.
The cockpit is the size of very spacious, runs into the saloon in a direct access, and provides lots of storage spaces. Also available as a variation is the Beach Club electric platform for night parties. Standard relaxation spaces are on the foredeck, lounge, and the cockpit. There is something striking about the FP 45 that's rare; the two refrigerators of 50.1 gallons & 34.3/23.7 gallons capacities, also there is a watermaker that produces drinking water 15.85gal/hour for blue-water cruisers.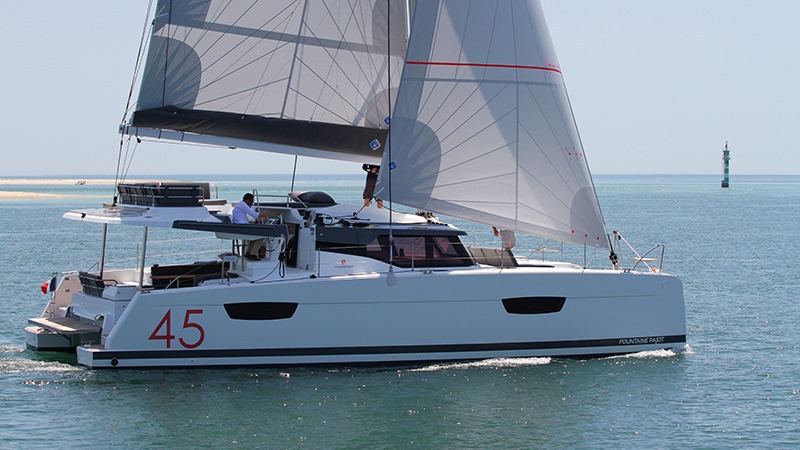 Fountaine Pajot 45 Specifications
Length Overall: 44.2 feet
Beam: 24.77 feet
Draft: 4.3 feet
Main Sail Area: 796 square feet
Genoa Area: 484 square feet
Displacement: 30200 lbs
Mechanical Specifics include:
Engine: 2 × 40 Hp or an optional 2 × 50 Up available for upgrade.
Diesel capacity: 124 gallons
Freshwater capacity: 185 gallons
Fountaine Pajot 45 Pros
Has one of the best and largest living spaces of catamarans in its class.
The Fly Lounge is clever. 
Pretty nippy sharp when with the wind, and it is a good compromise between comfort and speed.
Fountaine Pajot 45 Cons
The consumption of fuel increases in an upwind sailing.
Not positively popular for its performance upwind.
Leopard 45
Price: Around 600k USD On The Used Market
After we went through the details and characteristics of this Leopard Catamaran, we concluded that is was indeed deserving of winning the Boat of the Year Award in 2017. Also, we wish to affirm of its astute value and penchant for satisfying all sailors of the deep blue.
The overseer of the architecture of this catamaran is the popular Simonis and Voogd Yacht Design, with all exterior and interior finishing expertly handled by one team at Robertson and Caine. This boat was built while putting a lot of cruiser reviews into consideration. The lounge (which wasn't in the original design but now in the later editions) provides a sunbed for sunbathers, a seating space, and table for either working or eating. It is accessed from the aft cockpit by floating stairs situated by the side while avoiding any direct obstruction to the helming station. It is available on the 3 or 4 cabins variation and can take from 6 – 8 passengers comfortably.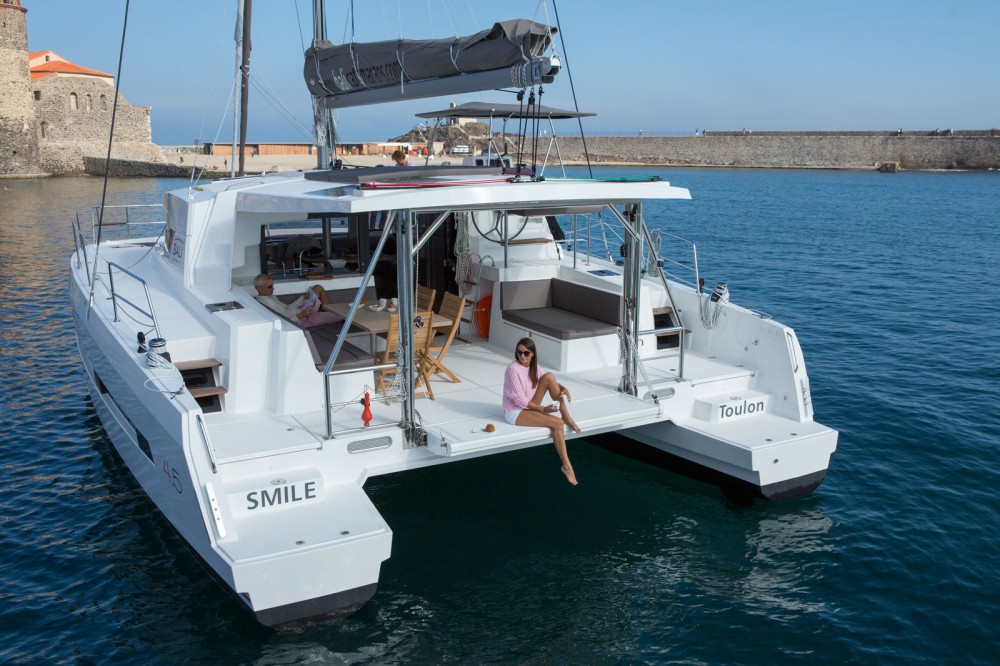 Leopard 45 Specs
Size Measurements
Length Overall: 45 feet
Length, WaterLine: 42 feet 11 inches
Beam: 24 feet 2 inches
Draft: 4 feet 11 inches
Mast Height: 70 feet
Bridgedeck Clearance: 2 feet 9 inches
Genoa Area: 501 square feet
Load Carrying Capacity: 10141 lbs
Displacement: 32849 lbs
Holding Tank Capacity: 45 gallons
Mechanical Specifics include:
Engine: is powered by 2 x Yanmar 45HP which runs on diesel.
Propeller Dimensions: 3‐blade 17inches x 14inches
Engine No. Cylinders: 4
Fuel: 185 gallons
Water Capacity: 206 gallons
Leopard 45 Pros
The helm position has good visibility and clearly assesses to the cockpit. The only flaw is the absence of some kind of barrier between the helm station and the sidedeck, apart from an armrest. We'd want a more robust and more reliable barrier for safety onboard.
Due to the abundance of rails and attachment points, movements of persons around the boat are encouraged.
Leopard 45 Cons
A tough nut to crack is the question concerning the forward-facing cockpit's drain time in the event of large waves over the bows. (Leopard claim 45 seconds)
Catana 47
Price: Around $750k USD On The Used Market
The Catana 47 comes with the Catana signature tall twin daggerboards, open helming stations, and a performance-oriented rig. The Catana 47 is built light and strong with a lot of carbon fiber input, which is a new innovation from the Catana company as their older models contained less of carbon fiber. We also see that this Catana promises to run faster because it was made lighter than the previous Model by 1,500 lbs. What's more, is that it can also carry more.
In terms of space, crew members do not have to worry about bothering the passenger guests on board because the deck and cockpit have space enough to perambulate without bumping into another person. The Catana 47 was built by Catana Catamarans and designed by Christophe Barreau.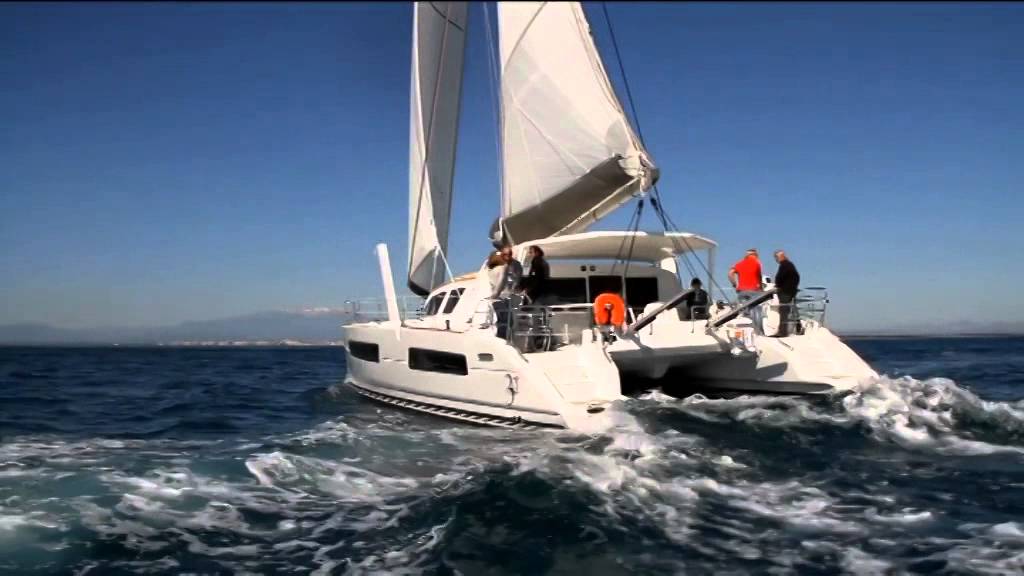 Catana 47 Specs
Size Measurements:
Length Overall: 46 feet
Length, Waterline: 45 feet 6 inches
Beam: 25 feet 1 inches
Draft: 3 feet 7 inches
Berth: 6 feet 5 inches × 5 feet 6 inches (forward)
6 feet 5 inches × 2 feet 2 inches (aft)
Fuel Capacity: 158 gallons
Water Capacity: 177 gallons
Displacement: 21,800 lbs
Sail Area: 1,035 square feet 
Mechanical Specifics include:
Engines: it runs on 2 × 40hp Volvo (saildrive)
Electrical: the house is rated at 920AH, and the engine is at 230AH.
Catana 47 Pros
Has quality headroom and enviable roomy space.
It is fast enough for a catamaran.
Catana 47 Cons
There is a blindspot diagonally looking from the helming station to the opposite bow. During docking, a watcher will be needed to direct the skipper.
The running rig is led to a single winch.
Seawind 1370
Price: Around 700k USD On The Used Market
This is a one of a kind 45-foot long cruise cat. Made from contributions of previous Seawind 1600 and 1260 designs, she features a high-performance hull design. However, the makers still managed to give it the balance of roomy and warm comfort and residing spaces that make it an ideal cruiser for large families. The glass windows are shaped in a panoramic fashion and well toughened up to protect against the spray and afore positioned navigation station.
The opening to the saloon from the cockpit is the tri-fold door. Inside the cockpit, there's a large transom lounge and a nice little bar that can serves as a small cocktail bar. The large saloon's lounge has enough space, and more can be created by folding down the table to make a bed. 
The helm station houses all the lines and controls, which are through below the deck. This cat's architecture was designed by Francois Perus, a French native. While equipped with high headroom in the cabins due to the well-shaped hull, it's unique also due to its flat decks and galley up.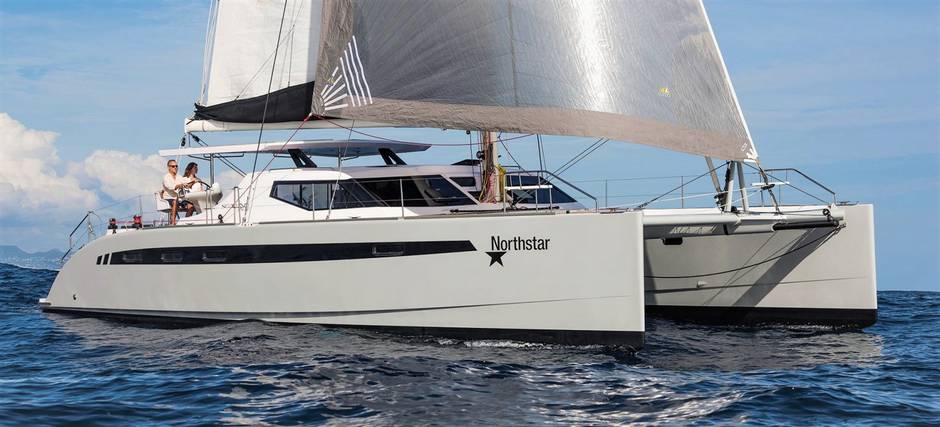 Seawind 1370 Specs
Size Measurements:
Length Overall: 45 feet
Beam: 24 feet 9 inches
Draft: 4 feet 2 inches
Headroom: 6 feet 9 inches
Job/Genoa: 387 square feet
Mainsail: 1,937 square feet
Displacement: 24,250 lbs
Mechanical Specifics include:
Engine: is powered by 2 x 40 Hp Yanmar engines which run on diesel fuel.
Fuel Capacity: 158.5 gallons
Water Capacity: 158.5 gallons
Seawind 1370 Pros
It is comfortable, especially for a couple or small family.
Seawind 1370 Cons
The Seawind cuts down of volume & space in the cause of it being a better sailing vessel.
Beneteau Excess 15
Price: From 200k to 1 Million USD On The Used Market
Excess 15 is succinctly put, the largest Catamaran in the new Beneteau Group. What I find most interesting in the boat, apart from its comfortable cruising and sleek make, is the twin helm stations, each situated where the hull aft ends up. The designers of this Beneteau Excess 15 say it is for the purpose of heightening sailing pleasure on skippers and crewmen alike. 
We start this catamaran's internal look, and we see first of all that the saloon, which can also serves as a mini room diner, possesses a 360° view of the entire land/seascape due to the non-smoked bay windows. Another feature is the beam which at 26 feet 3 inches can afford to house a cockpit that can contain 8 people to sit on its large table.
With titanium-style of aluminum supports and Dyneema control cords (steering cables) to positively effect the level of response and sensitivity of the feel of the helm. A catamaran that was built for cruising with the artistry invented for race boats and guardwired with fluorescent finer.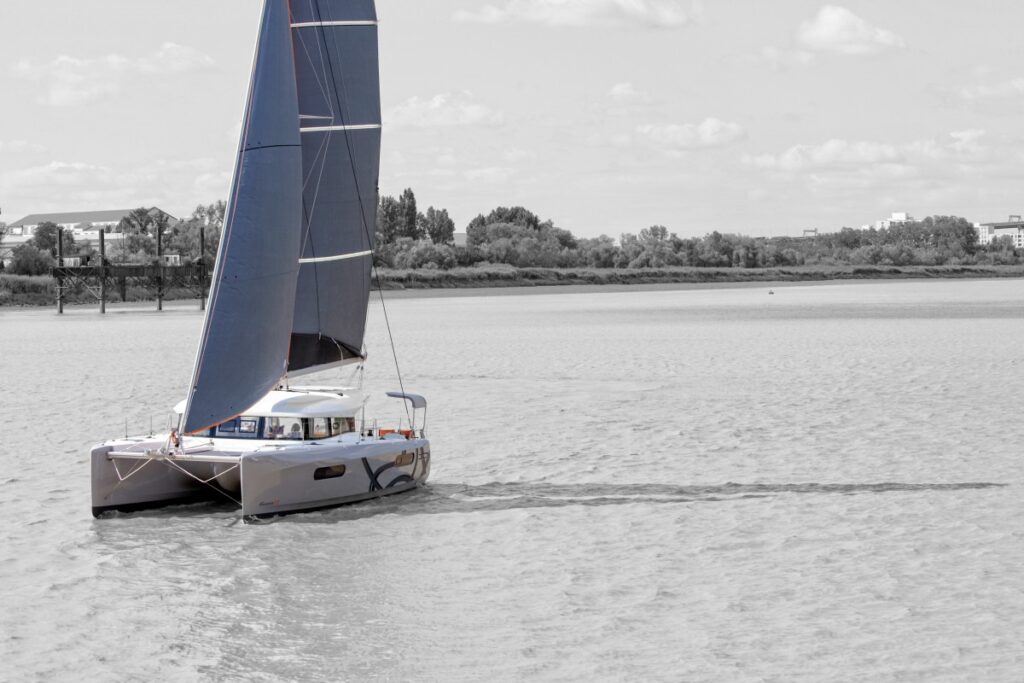 Beneteau Excess 15 Specs
Size Measurements: 
Length Overall: 48 feet 5 inches
Length: 46 feet 11 inches
Beam: 26 feet 4 inches
Draft: 4 feet 7 inches
Jib: 592 square feet
Displacement: 42,018 lbs
Mechanical Specifics include:
Engines: are the 2 × 57 Hp or the 2 × 80 Hp variant.
Fuel Capacity: 2 × 137 gallons
Water Capacity : 2× 67 & 2 × 46 gallons
Beneteau Excess 15 Pros
It has a of stability
For what's worth, she is a seaworthy vessel
The Beneteau Excess 15 has prestige written all over it.
Beneteau Excess 15 Cons
The Excess 15 is a luxury boat through and through, and one must be willing to sacrifice speed for it.


What is your favorite Catamaran Under 50 Feet? Let us know in the comments below.